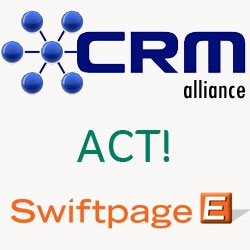 Phoenix, AZ, May 01, 2013 --(
PR.com
)-- The CRM Alliance has been the number one source for ACT! CRM customers to find local expertise from top ACT! certified consulting and training companies. With the recently completed purchase of the ACT! CRM product line by Swiftpage, the CRM Alliance is now the #1 source for ACT! CRM and Swiftpage E-Marketing solutions, services and training.
"Our alliance members are top consultants for ACT! CRM and the Swiftpage acquisition was a perfect fit for us - as our members are also top consultants for Swiftpage," said John Kaufman, founder of The CRM Alliance and current Chairman of the Board of Directors.
For over 25 years, ACT! CRM (customer relationship management) software has been the backbone of businesses and sales teams by creating innovative products and services to meet the challenges businesses face every day. Swiftpage tightly integrates with ACT! CRM and provides businesses digital marketing solutions and innovative marketing services such as email marketing, social media sharing and lead qualifier tools that are designed to make business marketing easier.
The CRM Alliance President Debora Boyle says ACT! and Swiftpage helps businesses of all sizes convert leads, retain customers and generate more sales. "We have re-launched our website
www.thecrmalliance.com
to make it easy for customers to try ACT! CRM and Swiftpage for free, download a whitepaper on revolutionizing your business with CRM & E-marketing, and find local experts for services and training."
About the CRM Alliance - The CRM Alliance is an organization of top CRM consulting and training companies. Specializing in Customer Relationship Management and E-marketing Solutions, we provide software systems for businesses to acquire and retain customers, automate the sales process, manage marketing campaigns and measure the success of sales teams. With headquarters in Phoenix, Arizona, the organization and its member firms provide local services for customers in major cities across North America. For more information or
to find an ACT! Certified Consultant visit www.thecrmalliance.com
.