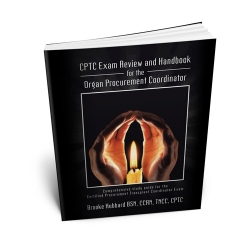 Scottsdale, AZ, May 03, 2013 --(
PR.com
)-- Nurses help make organ transplantation possible! Organ procurement transplant coordinators are often highly specialized nurses responsible for bridging organs from donor to recipient.
CPTC Exam Review and Handbook for the Organ Procurement Coordinator
describes in detail the many facets of this position, including medically managing brain dead donors in the ICU, hospital development, public education, brain death declaration processes and guidelines, pathophysiology of brain death, organ sharing and recovery policies, and packaging/labeling requirements. The Coordinator believes donation provides healing and hope for grieving families and that the ultimate goal is to share life where one has been so sadly lost. Nurses can specialize as organ coordinators and help make this happen!
Preview sample pages and place an order on www.CptcExam.com