PROLIM Corporation Recognized as "Michigan 50 Companies to Watch"
PROLIM Global Corporation, an IT, PLM and Engineering services consulting firm has been recognized as one of the 2013 "Michigan 50 Companies to Watch," an awards program sponsored by the Edward Lowe Foundation and presented by Michigan Celebrates Small Business.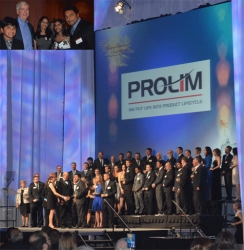 Lansing, MI, May 06, 2013 --(
PR.com
)-- PROLIM was honored at an awards ceremony during the ninth annual Michigan Celebrates Small Business event, May 2, 2013 in Lansing, Mich.
"I am highly thrilled and honored to receive this award on behalf of our dedicated employees and recognition from Governor of Michigan Mr. Rick Snyder at energetic Award Ceremony at Lansing," says Prabhu Patil, CEO and Founder of PROLIM.
PROLIM, an IT and
PLM Service company
with operations in USA, Germany and India, has won several awards including "Fastest Growing Private Company in America" by Inc 500.
Companies making it to the "Michigan 50 Companies to Watch" list are a remarkable group of second-stage companies. Representing all regions of the state and a diverse range of industries, companies like PROLIM are known for their exceptional entrepreneurial leadership, creation of innovation or use of innovation in creative ways, and their sustainable competitive advantage.
Winners were selected by Michigan-based judges from the banking, economic development, entrepreneurship development, industrial and venture capital communities.
Michigan 50 Companies to Watch is presented by Michigan Celebrates Small Business.
Founding underwriters are the Michigan Economic Development Corporation, PNC Bank, Michigan Certified Development Corporation, Accident Fund Insurance Company of America and Dynamic Edge, Inc.
Contributing Underwriters are DTE Energy Foundation, Comcast Business Class, Michigan Credit Union League & Affiliates, Rehmann, Varnum Attorneys at Law, Consumers Energy, Comcast Spotlight and AARP.
Michigan Celebrates Small Business was founded by the Michigan Small Business & Technology Development Center, Michigan Economic Development Corporation, U.S. Small Business Administration, Small Business Association of Michigan, Greater Lansing Business Monthly and Edward Lowe Foundation.
Information about next year's Michigan 50 Companies to Watch program can be found at www.Michigan.CompaniesToWatch.org. For information about Michigan Celebrates Small Business, visit www.MichiganCelebrates.biz.
About
PROLIM Corporation
PROLIM is a leading provider of end-to-end IT, PLM and Engineering Services and Solutions for Global 1000 companies. They understand business as much as technology, and help their customers improve their profitability and efficiency by providing high-value technology consulting, staffing, and project management outsourcing services.
Their IT and PLM consulting offerings include; Advisory, PLM Software/Services, Program Management, Solution Architecture Training/Staffing, Cloud Solutions, Servers/Networking, Infrastructure, ERP Practices and QA Services. Engineering services include Data Translation, CAD/CAM/CAE, Process & Product Engineering, Prototyping, and Testing/Validation within a wide range of markets and industries.
Contact
PROLIM Global Corporation
Lisa Smith
888-9-PROLIM
www.prolim.com
30445 Northwestern Hwy, Suite 380,
Farmington Hills, MI 48334
Fax: (800) 515-6821
Email: info@prolim.com

Contact