Mingfa Tech MFG Ltd's Pin Fin Heat Sinks for LED Available in May 2013
MingfaTech Manufacturing Limited, a LED thermal solution leading provider, who is a certified LED heatsink supplier of many branded LED modules. MingfaTech's design and supply on star heat sinks and pin fin heat sinks, especially the breaking-through LED cooler series of EtraLED, SimpoLED, GooLED have been helping the clients improve their designs with the heat dissipation in better efficiency and more aesthetic appearances.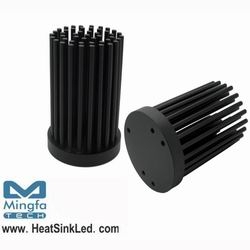 Dongguan, China, May 08, 2013 --(
PR.com
)-- Mingfa Tech Manufacturing Limited today announced that they would launch cold forged pin fin led heat sinks this May. In the next two months, many types of pin fin heatsinks will come out from the new toolings which have been developed by Mingfa Tech's designers. The samples will be available for LED solid state lighting OEM partners to test step by step.
About Mingfa Tech Manufacturing Limited
Mingfa Tech is a Xicato certified heat sink supplier, focuses on manufacturing LED heat sinks and LED light fittings as well as different metal parts applied to LED lighting fixtures, accessories, etc. Their clients are mainly from the following fields:
.LED design companies
.LED lighting manufacturers
.LED consultant firms
.LED thermal solution providers
.LED OEM suppliers
Their products include LED heat sinks, LED housings, light connectors, thermal parts, customised CNC parts, etc.
About Cold Forged LED Pin Fin Heat Sinks
Cold Forged Heatsink is a kind of revolutionary solution for LED thermal dissipation due to the material usage of AL1070, as well as the cutting-edge technology used for production. For more information, please visit www.mingfatech.com or www.heatsinkled.com
Contact
Mingfa Tech Manufacturing Limited
Toby Mok
+86-13192035895
www.heatsinkled.com
MingfaTech Mfg has all LED heat sinks (star heat sinks, pin fin heatsinks), led cooler, led cooling, including aluminum extrusion led heat sinks, die casting led heat sinks, and LED cold forged heat sinks. The products can be viewed at http://www.heatsink

Contact