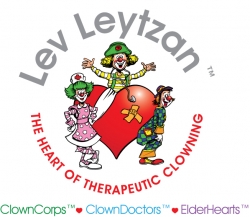 Lawrence, NY, May 09, 2013 --(
PR.com
)-- Lev Leytzan's Elderheart progam was recently awarded a $5,000 grant from the Alzheimer's Foundation of America (AFA). Elderhearts, the newest of Lev Leytzan's programs, reaches out to people with Alzheimer's disease and related dementias with interactive experiences designed to help them reconnect with the world and alleviate loneliness and isolation.
The award is one of 16 awarded by AFA this spring to nonprofit member organizations as part of its biannual grant process. AFA is a New York based national non-profit organization that focuses on providing optimal care to people with dementia and their families, and unites 1,600 member organizations nationwide.
"This grant will allow us to expand our services to a wider audience of people with Alzheimer's disease and dementia using our unique approach to humor and patient empowerment," said Neal Golberg, Ph.D., founder and executive director of Lev Leytzan, Lawrence, NY.
In partnership with successful practitioners in Europe, Lev Leytzan has developed a program that trains clowns to understand the inner world of Alzheimer's patients better and use special clowning techniques to connect with them. The Elderhearts troupe wears vintage costumes and uses 1930s-1950s-era props, harkening back to a time many people with Alzheimer's disease still remember and one with which they have an emotional connection. Scenes are organized around simple family dynamics that people can understand more easily, and audience participation is encouraged through playful interaction.
Elderhearts clowns learn to incorporate the "anything goes" contributions their elderly play partners make, and weave them skillfully into everyday domestic scenes. In this way, participants experience the pleasure of shared emotions and common goals, allowing them to set aside, if only for a little while, the feelings of isolation and loss that may accompany dementia.
"We applaud Lev Leytzan for its unique approach to dementia care," said Carol Steinberg, AFA's acting chief executive officer. "When carried out appropriately, humor can be a valuable and powerful tool that advances communication and reminiscence. Therapeutic clowning, in particular, creates a vibrant atmosphere, allowing people with Alzheimer's disease to thrive. It's the type of stimulation that goes a long way toward improving quality of life."
For more information about Lev Leytzan and the Elderhearts program, please visit our website: www.levleytzan.org, or phone us (516) 612-3264. Lev Leytzan, a 501 © (3) non-profit, headquartered in Lawrence, New York. Founded in 2004 by Dr. Neal C. Goldberg Ph.D., its mission is to train ambitious youth and adults in the art of medical / therapeutic clowning so that they may help heal others with doses of laughter, joy and empowerment. In concert with medical personnel, our therapeutic clowns engage the medically ill and residents at hospitals, nursing homes, senior centers and private homes both in the US and abroad. Lev Leytzan's ElderHearts are uniquely trained professionals who work with individuals challenged with Alzheimer's Disease and dementia.