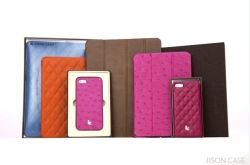 Los Angeles, CA, May 21, 2013 --(
PR.com
)-- Jison Case, premier manufacturer of high-end, fashion-forward cases for Apple and Android devices, has announced its presence at CTIA in Las Vegas. The company, which is internationally renowned for its premium lines of handcrafted products, will be located at CTIA Booth 2063.
"We are excited to attend and exhibit at CTIA 2013," said Arden Deng, CEO of Jison Case. "We are experiencing tremendous growth in the U.S. market and it is very important that we continue to connect our ideas and values with key industry players."
Jison Case's presence at CTIA is perfectly timed with its recent launch into the U.S. marketplace. Jison Case's elegant product line is reputed for luxury, innovation and premium materials coupled with elevated designs that stand apart from competitors' cases. Each product is meticulously designed to create a fully functioning, one-of-a-kind case that increases mobility and enhances the user experience. From lightweight folio cases and sleek leather executive covers, to elegant quilted leather styles and premium iPhone cases made from ostrich leather, Jison Case products inspire confidence, professionalism, creativity and uniqueness.
Jison Case is an industry leader when it comes to creating premium cases for tablets, iPads, iPhones and other devices. The product line offers elegant, clever and fun styles that let users express their unique personalities.
About Jison Case
Jison Case is a premier manufacturer of high-end, fashionable cases for Apple and Android devices. Each case has been handcrafted from a selection of the finest genuine leather, sourced and imported from regions across the world, including Italy and Australia. Driven by a passion for design and craftsmanship, Jison Case is dedicated to creating premium products that enhance and protect the technology that is essential to our daily lives. Jison Case has offices in Los Angeles, Beijing, Guangzhou, Shenzhen, Hong Kong, and Sydney. Jisoncase.com
About CTIA
CTIA–The Wireless Association® (www.ctia.org) is an international organization representing the wireless communications industry. Membership in the association includes wireless carriers and their suppliers, as well as providers and manufacturers of wireless data services and products. CTIA advocates on behalf of its members at all levels of government. The association also coordinates the industry's voluntary best practices and initiatives, and sponsors the industry's leading wireless tradeshows. CTIA was founded in 1984 and is based in Washington, D.C.