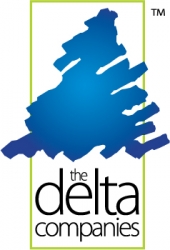 Dallas, TX, May 22, 2013 --(
PR.com
)-- In the company's first major fundraiser of the year, The Delta Companies raised $26,975 in the 2013 Disco Cup Golf Tournament. The annual tournament is one of several company-sponsored fundraisers benefiting Texas Scottish Rite Hospital for Children (TSRHC).
In keeping with The Delta Companies balance of both fun and productivity, this year's tournament was split into two simultaneously competing flights: "performance" and "humanity." Both flights featured a day full of fun, camaraderie and competition—sprinkled with a few enterprise extras such as the Heckle Hole, Marshmallow Drive, and even an inaugural Helicopter Drop in which The Delta Companies' CEO Jeff Bowling tossed over 100 golf balls from a hovering helicopter onto a putting green. With 221 golfers, The Delta Companies welcomed their largest event turnout to date, including celebrity participant, Ira Terrell.
Funds raised during the Disco Cup are part of the company's year-long initiative to generate $100,045 in support of TSRHC. The enterprise will also host an annual silent auction this fall, which welcomes the entire community to participate. Previous auction items have included event tickets, sports memorabilia, travel packages, and a wide array of specialty gifts. All proceeds collected from this year's campaign will be presented to TSRCH during the holiday season.
This year's event was made possible by several sponsors: Lee Garber, Neil Rinehart, Niner Bikes, Wells Fargo, Tamlin Software Developers, Impact Printing, Next Level Exchange, Billy Jealousy, Sterling, Career Builder, Park Place Motors, Team Honey Badgers, Century 21, Enterprise Rent-a-Car, Hospital of Anaconda, Label Systems, C1S Group, Inc., Laughter Photography, Bell Nunnally & Martin LLP, Tommy Chambers Interiors, Inc., Dallas Stars, McColl Partners, Hays Companies of Texas, Mission FoodsGrapevine Ford.
For more information about TSRHC, visit http://www.tsrhc.org.
About The Delta Companies
The Delta Companies offer permanent and temporary staffing solutions nationwide for physicians, physician extenders, therapy and other allied healthcare professionals. Physician staffing services are represented by Delta Physician Placement and Delta Locum Tenens. All other allied healthcare staffing services are represented by Delta Healthcare Providers.