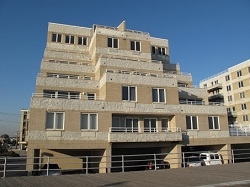 Long Beach, NY, May 27, 2013 --(
PR.com
)-- Canido Basonas Construction Corp., a New York-based building restoration and construction company is doing a major overhaul of Beachwalk Landing. "We intend to return it to its original splendor; the gem by the sea," said Michael Brion, president of Canido Basonas Construction Corporation.
Beachwalk Landing, a condominium complex overlooking the boardwalk and epitomizing the new Long Beach. The twin, six-story buildings which have terraced setbacks at each floor facing the ocean are connected by a 6,500 square foot landscaped sun terrace. And the buildings' lobbies open practically onto the beach.
Under the 3 year plan of restoration, the project consists of plenty of work. There is structural metal work that includes shelf angle and lintel replacement. There is metal work that includes restoration of railings systems on the terraces, and sheet metal to replace the flashing for waterproofing. Masonry entails replacing all brick and block at the south façade. There is terrace and balcony restoration involving waterproofing. Windows sills are being replaced along with an extensive coping stone replacement. There was a need to replace windows at several elevations, and the doors in the terraces needed to be replaced.
Jordan Ruzz P.E. Consulting Engineers served as the project's consultant.
For more information, visit
http://www.Basonas.com
or call 718-832-0283.
About Canido Basonas Construction Corporation
Headquartered in Brooklyn, New York, Canido Basonas Construction Corporation specializes in working on façade envelopes and building exteriors utilizing the latest technology. The company is a member of the Building Trades Association and works primarily with co-ops, condos and rental buildings in the greater New York City area. With extensive experience on both large and small projects, quality work and safety have been the company's top priorities since its inception twenty five years ago.
Contact:
Michael Brion
Email: MBrion@Basonas.com
Telephone: 718-832-0283