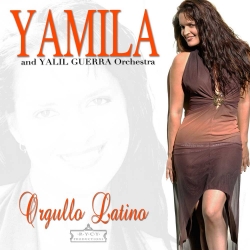 Burbank, CA, June 05, 2013 --(
PR.com
)-- Yamila and Yalil Guerra, were both born in a family of artists, the duo Rosell y Cary, who were well known in Cuba in the 80s. The Guerra siblings have dedicated this new production to their Latin heritage, united by the same language, customs, passion for life and pride of our America.
After the success of Yalil Guerra's (2012 Latin Grammy winner) as a classical composer in recent years, he has joined forces with Yamila to create a new sound in Latin music, combining style, taste, melody and full of innovative arrangements with elements of the classical music counterpoint and harmonies and jazz elements that will surprise and captivate all listeners and are unique to this project. 

"It was a real challenge for me to do this new production, as it has been recorded and created very good Latin music for many years and both my sister and I have fed our musical flow of these inexhaustible aesthetic and artistic sources. That is why with respect and admiration to all our colleagues and professional brothers have created this album without any pretensions than honor our Latino culture," said Yalil Guerra in his studio in Burbank, California. 

"The vocal work on this album has been arduous, as the record these musical hits have requested a new interpretive view thereof. Both Yalil and I have been very demanding in the way of remaking these songs and the result has been the highest level, I'm happy with it," said Yamila Guerra in Los Angeles, California.

The album begins with a version of the song "Veinte Años" by composer Maria Teresa Vera, in a bolero arrangement in which a Benny Moré style mambo appears at the center of the piece. Later a bandoneon makes a solo appearance to give a southern feel and melancholy to consolidate the romantic character of the same. 

"Orgullo Cubano" ("Cuban Pride") is the new song written especially by Guerra to this album. The main theme is to expose the memories of an immigrant away from his beloved land, which cry and suffer exile in the distance. The song recalls star artists of Cuban culture as a tribute in its final section.
The Brazilian singer Roberto Carlos has been a major influence in the careers of both siblings and that is why they made a beautiful version of the song "Amigo" ("Friend"), without a doubt one of the most popular songs. Also from another Brazilian composer is the next title, "The Girl from Ipanema," one of the most beautiful pieces of the composer Antonio Carlos Jobim, who was an icon of the culture of their country and recognized worldwide. This version combines the lyrics in English and in Portuguese.
Puerto Rico and Cuba have always been united in tradition, culture and music. RYCY Productions Inc. could not miss a representation of the "Island of Enchantment" on this recording, which is why after a very difficult selection of beautiful songs by Puerto Rican authors, they decided to include from Bobby Capó, "Piel Canela" ("Cinnamon Skin") in a Cha-Cha-Cha style.
Love and heartbreak are one of the most passionate feelings in all humans, and following the creative tradition of Latin American songwriters, Yalil Guerra wrote these beautiful and profound songs: "Para Amar" ("To Love") and "Estoy Enamorada de Ti" ("I'm In Love with You"), beautifully sung by Yamila. Continuing the romantic theme, from the artists' father, Eugenio Guerra ("Rosell y Cary"), is the next song "El Sendero" ("The Path") which is full of lyricism, surprising melodies, and where Yamila shines with a character and unsurpassed vocal timbre.
RYCY Productions Inc. included the world premiere of "Vuelvo a la Oscuridad" ("Back to Black"), Spanish version of "Back to Black," from the British singer Amy Winehouse. As a tribute to the sparkling career of this talented performer they made the cover of one of her most popular hits. 

To close with a flourish this disc includes a classic song from the Cuban repertoire, "Son al Son" by composer César Portillo de la Luz ("Contigo en la Distancia," "You're my delirium").
"Music is the art of vibrating humans, we are all like guitars where music penetrates and makes us vibrate every cell of our being. Water is vital for our physical survival and the music is the food of our spirit ." -Yalil Guerra.
For more information contact:
RYCY Media Department
Email: info@rycy.com