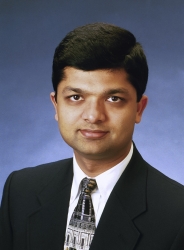 Marina del Rey, CA, June 10, 2013 --(
PR.com
)-- Dr. Anurag Jain and Dr. Gary Hart, principals of Weidlinger Associates, Inc., will present technical papers at the 12th Americas Conference on Wind Engineering (ACWE), convened by the American Association for Wind Engineering (AAWE). Jain will co-chair the event with Dr. Dorothy Reed, professor of civil and environmental engineering at the University of Washington. The conference will take place at the Westin Hotel in Seattle, Washington, June 16-20, 2013. Weidlinger is a Gold Level Sponsor of the event.
As co-chair, Jain played a key role in organizing the event, which will feature three days of concurrent technical sessions. Speakers will present papers and posters on 26 wind-related topics, encompassing buildings, bridges, extreme winds, wind energy, wind risk, and CFD (computational fluid dynamics). A total of 175 talks are scheduled, and 35 posters addressing the conference theme, "Wind Effects on Structures, Communities, and Energy Generation," will be on display.
Traditionally, ACWE has focused on structural aerodynamics; however, recent years have seen a shift in the types of papers presented. "As structures rely more heavily on sustainable development, greater attention is being paid to renewable energy sources such as wind turbines and solar power and to the effects of wind loads on rooftop photovoltaic panels and solar power generation," said Jain.
"I am particularly excited about this year's conference, because it will bring the community of wind engineers to the birthplace of modern wind engineering—the Tacoma Narrows Bridge." The 1940 collapse of the original Tacoma Narrows Bridge ("Galloping Gertie"), resulting from aeroelastic flutter caused by a 42-mile-per-hour wind, is widely credited with inspiring the inception of wind engineering. (A post-conference technical tour of the surviving portion of the bridge will be offered to conference attendees.)
At a Technical Session on "Tall Buildings," Hart, who chaired the 7th AAWE conference in 1993 (known at the time as the "U.S. National Conference on Wind Engineering") will join Jain in presenting "Performance Based Wind Design of Tall Concrete Buildings Utilizing Structural Reliability and Nonlinear Time History Analysis." Using equations and specific real-building examples, Hart and Jain will demonstrate how structural engineers can work with wind-tunnel experts to obtain wind-loading time histories and use recent advances in nonlinear time history analysis to assist in performance-based design.
At a Technical Session on "Windborne Debris," Jain will present "Windborne Debris Impact Generated Damage to Cladding of High Rise Building." In 2005, during Hurricane Wilma, a 26-story high-rise in Miami, Florida, suffered severe damage when gravel from the roof of a nearby nine-story building was picked up and hurled against it by high-speed winds. Jain will delineate the damaged regions of the structure, describe how increases in interior pressure caused by breaches in the exterior glazing resulted in the failure of façade components not directly impacted by the flying debris, and draw conclusions on the likely trajectories of wind-borne particles, comparing them to data from available prediction tools.
The program will include keynote presentations by Mr. Ronald T. Eguchi, president and CEO of ImageCat, Inc.; Dr. Cliff Mass, professor of atmospheric sciences at the University of Washington; and Dr. David Rosowsky, professor of civil and environmental engineering and dean of engineering at Rensselaer Polytechnic Institute. Final conference proceedings, including full papers, will be published electronically; selected papers will be published in a special issue of the Journal of Wind Engineering and Industrial Aerodynamics.
Anurag Jain, PhD, PE, helped establish and currently maintains Weidlinger's investigations and forensic engineering practice in the western U.S. and its hurricane damage investigations practice. He has evaluated more than 2,500 buildings compromised by natural and human-made disasters, performing sophisticated analyses to assess cause and to design retrofits. Jain is director of Weidlinger's wind engineering services and has developed a national reputation as a wind engineer. He has published more than 50 papers, coauthored chapters in three books, and is active in code development and other professional activities.
The American Association for Wind Engineering (http://www.aawe.org/)was originally established as the Wind Engineering Research Council in 1966 to promote and disseminate technical information in the research community. In 1983, the name was changed to American Association for Wind Engineering and incorporated as a nonprofit professional organization. The multidisciplinary field of wind engineering considers problems related to wind and associated water loads and penetrations for buildings and structures, societal impact of winds, hurricane and tornado risk assessment, cost-benefit analysis, codes and standards, dispersion of urban and industrial pollution, wind energy, and urban aerodynamics.
Weidlinger Associates, Inc., is a 300-person structural engineering firm that designs and rehabilitates buildings, bridges, and infrastructure and provides special services in applied science, forensics, and physical security. The firm, which celebrated its 60th year in 2009, is recognized worldwide for its innovative and practical design solutions and for its long-term commitment to advancing the state of the art in engineering. Headquartered in New York City, the firm has branch offices in the United States and the United Kingdom. For more information, please see www.wai.com.
Pictured: Anurag Jain (Weidlinger Associates, Inc.)