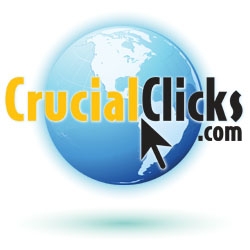 Coral Springs, FL, June 10, 2013 --(
PR.com
)-- CrucialClicks.com, a leading provider of Property Management Internet Marketing Solutions, announces that they have been selected by Herman & Kittle Properties, Inc. to manage website design and Internet marketing services for its portal site, http://myfavoriteapartment.com and for the 55 apartment communities that are part of this collection. Herman & Kittle Properties (HKP) is a property development company headquartered on the north side of Indianapolis that specializes in multi-family construction projects.
In accordance with the partnership, CrucialClicks.com will continue to design websites for the HKP apartment communities and develop, implement, and oversee complementary strategic marketing programs. These plans include: effective search engine optimization, pay-per-click marketing, local search marketing, statistical reporting and analysis, and proactive, consultative client support.
In addition, CrucialClicks.com will create and develop Web Service Interfacing with Yardi Voyager™ allowing Real Time Information utilizing Yardi Guest Card/Lead Tracking & Property Marketing and Internet Listing Service.
"HKP has an expert-level understanding of the power of the online distribution channel," said Izzat A. Dajani, Director of Marketing/Partner for CrucialClicks.com. "CrucialClicks.com is delighted to combine our industry-leading design and marketing expertise with the finest Midwest and Gulf Region's leader in the construction and management of affordable housing."
Jennifer Yeagley, Director of Operations at Herman & Kittle Properties, said "The CrucialClicks team has a different approach in that they focus on our business results first without getting lost in all of the details of Internet Marketing. We look forward to working with them as we grow our Online Results."
HKP initially partnered with CrucialClicks.com, a provider of Internet Marketing Solutions for Self-Storage, in November 2010 for the online web presence of Infinite Self Storage. Based on CrucialClicks superior services and proven results with this portfolio, HKP elected to extend its Internet marketing partnership with CrucialClicks.com for its apartment communities' portal site.
CrucialClicks.com will be exhibiting at the National Apartment Association (NAA) Education Conference and Exposition in San Diego, CA, June 19–22, 2013. The CrucialClicks.com team will welcome visitors at booth #1841. They will present a wide selection of products and services as well as provide proven Property Management Internet Marketing Solutions that will work for your business. "We are thrilled to have the opportunity to introduce our products and services to so many people and we are looking forward to networking with fellow exhibitors," Dajani added.
About CrucialClicks.com
CrucialClicks.com, located at 12375 West Sample Road, Coral Springs, FL 33065, is a leading provider of: Website Design & Development, Effective Search Engine Optimization (SEO), Pay Per Click Marketing, a Reputation & Identity Management Platform – ReputationRepo™, Call Tracking Phone Numbers, Google Analytics, Mobile Site™, Local Search, and Online Media with the Property Management Industry being at the core, implementing a design to increase targeted traffic to your website. Our goal is the same as yours: Convert a Lead into a Rental.
About ​Herman & Kittle Properties
Herman & Kittle Properties, Inc. (HKP) is a property development company headquartered on the north side of Indianapolis that specializes in multi-family construction projects. HKP is the successor to companies that have been around since 1948, and has developed and managed multi-family homes for over 60 years. They develop, build, manage and own multi-family rental housing and self-storage facilities. HKP has developed and managed properties in nine states including high-quality apartment complexes and self-storage facilities throughout the Midwest and the Gulf Regions. HKP currently manages a portfolio of over 100 properties, including over 8,000 apartment homes and over 12,000 self-storage units.