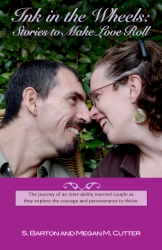 Raleigh, NC, June 17, 2013 --(
PR.com
)-- At the frontier of the latest information and technology for people with disabilities for over 30 years, The Abilities Expo has always been a hub of information sharing for experts in the field, families and the public alike. This year is no exception, as the Abilities Expo Chicago seeks to break new ground in the often over-looked area of disability and relationships.
Featured speakers, Barton and Megan Cutter will dive into the themes of disability, relationships, and intimacy. Sharing what they have learned through their own experience about their ability to cultivate lasting partnerships and relate to one another, they will provide practical insights on positive communication, aligning individual and joint values, and identifying creative planning strategies.
Their session, "Creating Healthy Relationships: Tips for Dating and Intimacy" will be held on Friday, June 28, 2013 from 1:00-2:00pm.
Native Chicagoan and avid champion for people of all abilities, professionals and educators, Barton Cutter uses his experiences as a person with a disability and his foundational training to give others, with and without disabilities an avenue to move through life's obstacles.
Married for eight years, Barton and Megan Cutter work to empower individuals of all abilities to live fully engaged lives. In their latest book, they share the skills that they teach through personal coaching, leadership training and speaking engagements. Among the many topics they speak on are disability awareness, creating healthy relationships, self-defense for people with disabilities and emergency preparedness.
Inter-ability couples have been getting more attention in recent years as the movement toward full inclusion for people with disabilities takes hold. Yet, few examples of successful inter-ability couples have offered an in-depth portrayal that appeals to general audiences. The Cutters hope to change that by sharing their own story and empowering others.
Their memoir, Ink in the Wheels: Stories to Make Love Roll depicts their journey as an inter-ability married couple, where one member is impacted by disability, as they explore the courage and perseverance to thrive in their relationship and their journey to build a successful marriage, despite the day-to-day challenges. This book is the missing voice in the disability community, and their goal is to reach as many families and individuals as they can to facilitate greater discussion and open dialogue around disabilities, in order to break down barriers and misconceptions.
Through their writing and speaking, Barton and Megan Cutter dive into themes of intimacy, family influences and dynamics, creating external and internal support networks, direct support staff and the balance of care giving, losing faith in each other and themselves and finding it again.
Abilities Expo reaches out to all ages and all sectors of the community including wounded veterans, persons recovering from immobilizing accidents, seniors with age-related health concerns, children with disabilities, individuals with mobility and spinal issues, people who have vision and hearing impairments, people with developmental disabilities and many more.
For the last 30 years, Abilities Expo has been the one show dedicated to educating and improving the lives of Americans with disabilities, senior citizens, families, caregivers, healthcare professionals and professional therapists. It has been the nation's foremost event for companies to demonstrate their products and services to the largest community of end-users and industry professionals.
Ink in the Wheels: Stories to Make Love Roll is available through Amazon and other leading bookstores as well as their website inkinthewheels.com.
For media interviews or to discuss their speaking engagement at The Abilities Expo Chicago, please contact Publicist, Diana Ennen at diana@virtualwordpublishing.com.