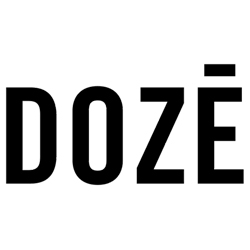 Vancouver, Canada, June 18, 2013 --(
PR.com
)-- Doze City Apparel Launch Party
It was a night filled with music, dancing, inspiring speakers, activities, smiling faces, open minds and open hearts.
The Doze City Apparel launch party was a huge success! It was a sold out event and a non-stop evening of entertainment. Doze City Apparel, a crowd sourced apparel line, hosted their launch party on June 14 at The Beaumont Studio, an artist's gallery in Vancouver.
The evening was all about building community and inspiring one another. As you entered the event, local five piece drumming band, Kutapira, played and welcomed guests as they arrived. After entering you were introduced to the Doze Experience. Guests were encouraged to form groups of four, brainstorm the topic "What does Vancouver mean to you" and then create the design on a mini t-shirt. Doze City Apparel is currently running a photo content which speaks to the same question and the winners of this contest (contest period May 28 – June 28) will have their t-shirt featured on the Doze Vancouver t-shirt. The Doze Experience was a way to share how the Doze team evolved and foreshadows what is to come. People were also exposed to the idea of Doze Days and had a chance to share their own ideas and sign up for upcoming Doze Days. Doze has partnered with local organizations to create fun and engaging experiences for Vancouverites to take part in called Doze Days. Doze Days are monthly events that offer an avenue for locals and visitors to engage in purposeful, educational and fun group volunteer projects that benefit the community.
Inspiring community leaders and entrepreneurs took the stage and shared their personal stories and their own vision for Vancouver. Speakers of the night included Cara Sumpton and Colin Moore from Lululemon Athletica, Jude Kusnierz from The Beaumont Studios, Duncan Penn from The Buried Life, and Lara Kozan co-founder of YYoga!
Tri-city band The Community Trees then took the stage and entertained the crowd with their instrumentals and vocals followed by a night DJ and dance.
With a long list of sponsors, Doze City Apparel gave out 12 prizes throughout the night and handed out swag bags to each of the guests as they left.
It was a party for the books. Doze City Apparel made a great first impression and is excited to see everyone at their upcoming Doze Day on June 29 and to receive more photo submissions. The official Doze Vancouver t-shirt will be ready by mid July – stay tuned!
To learn more about Doze and to sign up for upcoming Doze Days visit: www.dozecity.com or email info@dozecity.com