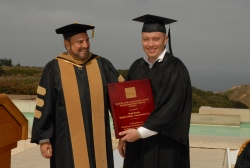 San Diego, CA, June 26, 2013 --(
PR.com
)-- Balfour Beatty Construction received the 2013 Manuel and Laura Rosen Professional Service Award from the NewSchool of Architecture and Design (NSAD) on June 22. The award was presented during Commencement Ceremonies for the 2013 graduates of the school at the Salk Institute for Biological Studies in La Jolla, Calif.
The award is presented to an individual or corporation for exceptional and sustained impact on education and practice in architecture, construction and/or the design disciplines. It is named in honor of Manuel Rosen and his late wife, Laura. Manuel Rosen is a NSAD Board Member, distinguished teacher, renowned architect and leader in transnational collaboration. Brad Hardin, national vice president of technology for Balfour Beatty Construction, accepted the award.
Earlier this year, Balfour Beatty Construction sponsored a NSAD joint construction and architecture student team in the 2013 ASC Regions 6 & 7 Student Competition held in Sparks, Nevada. The highly competitive event was attended by more than 1,200 students representing various construction management, architecture, and engineering schools located in 12 western states.
The contest pits star students from top schools against each other who are competing in six-person teams in a variety of categories including: Sustainable Building & LEED, Integrated Project, Preconstruction Services, Heavy Civil, Commercial, Design Build, Virtual Design and Construction (VDC) and several more. During the competition, teams have less than 18 hours to develop a comprehensive proposal addressing items such as budget, schedule and construction logistics, and then give a full presentation to a panel of industry judges the following day.
Hardin, along with a team of four Balfour Beatty Construction BIM specialists, conducted weekly meetings over a six month period to prepare the NSAD student team. Preparations included lectures and homework covering topics such as modeling, BIM review/quality control, model based estimating, scheduling, team dynamics, and presentations.
NSAD's student team earned first place in the Virtual Design and Construction category in the school's first ever entrance into the category.
"Brad and his team provided resources, training, hardware and their time that enabled our team to achieve this spectacular outcome," said Steve Altman, NSAD president.
"We are honored to have had the opportunity to work with such a talented group of students and to be recognized with this prestigious award," said Hardin.
About Balfour Beatty Construction
An industry leader for more than 80 years, Balfour Beatty Construction provides general contracting, at-risk construction management, and design-build services for a wide variety of markets, serving clients in both the public and private sector. With more than 2,400 employees across the U.S., the company has been cited as a Top 10 Green Builder by Engineering News-Record, and as one of the 100 Best Companies to Work For® by FORTUNE magazine, four years in a row. The company is part of London-based Balfour Beatty plc, a global infrastructure services business operating in more than 80 countries, with a worldwide commitment to providing assets that help societies function, develop, and thrive. To learn more about the company, visit www.balfourbeattyus.com or look for BalfourBeattyUS on Facebook, Twitter, and LinkedIn.