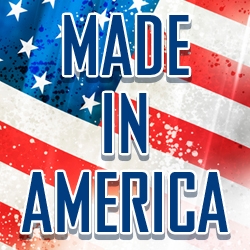 Oyster Bay, NY, July 12, 2013 --(
PR.com
)-- Nelson Taxel, CEO of Positive Promotions and Congressman Steve Israel met at Sagamore Hill National Historic Site, the former home of President Teddy Roosevelt, to advocate proposed legislation to put American made products in official gift shops at the National Parks, monuments, and historic sites across the country. The "American Parks, American Products Act" would offer an opportunity for Positive Promotions to expand their "Made in America" line of educational, motivational, and promotional products. With an increase in American made production, more American based jobs will be created presenting the opportunity to boost our still recovering economy.
As Congressman Israel highlighted, "Every single day in this country 750,000 people visit one of our 400 National Parks, heritage sites, and historic areas. 283 million consumers a year go to our parks and our gift shops." With that amount of visitors buying $250 million dollars in merchandise from our National gift stores each year, the American economy is missing out on the opportunity to benefit from substantial purchasing power. By buying products overseas, most commonly in China, we are eliminating growth opportunity for companies like Positive Promotions that are capable of making the same products here in the states.
To give the work and labor that we are currently outsourcing overseas to American companies is a "common sense solution" for workforce and economic growth. With the "American Parks, American Product Acts" in effect, as a company with a 67 year history in the promotional product business, Positive Promotions will have the chance to enter into the ring of purchasing power at recognized National locations. As Nelson Taxel, CEO of Positive Promotions stated, "having this merchandise that can be made here in the United States, there are people waiting in the promotional products business that can make all of these different things and to us this bill would be a tremendous boost and as we would increase our business and increase employment."
American economists have determined that if every American were to spend $3.33 a day, not extra but just divert that amount from spend on foreign made goods to American made products, that one act alone would create 10,000 jobs. As jobs increase, spend will too. The economy as a whole will improve. The "American Parks, American Product Act" as Congressman Israel stated, "is not a major economic initiative. This is not a 12 point plan. This is one point, common sense."
Positive Promotions is a budget-friendly, one-stop-shopping source for awareness and educational tools. It is a direct source that offers quality product at exceptional value. Customers can order in 4 easy ways: online anytime at
positivepromotions.com
, by calling toll free at 1-800-635-2666 to speak to with a knowledgeable customer service representative Monday-Friday from 8am-7pm EST, by faxing an order toll-free at 1-800-635-2329 anytime, or by mailing an order to Positive Promotions at 15 Gilpin Avenue, P.O. Box 18021 Hauppauge NY 11788-8821. To request a catalog visit the company website at
positivepromotions.com
and click the catalog request link.