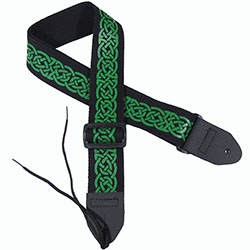 Glenshaw, PA, July 16, 2013 --(
PR.com
)-- Legacystraps is pleased to announce the launch of their new sister website: http://www.celticguitarstraps.com.
The site specializes in Guitar Straps and Saxophone Straps decorated with traditional celtic designs including celtic knots, chains, dogs and others.
The new graphic designs are offered on high quality cotton guitar straps and jacquard woven synthetic saxophone straps, all manufactured with the highest attention to detail and an emphasis on providing quality products at prices affordable to all.
Customers start by choosing a strap color from a selection of over a dozen different guitar strap colors. Once the guitar strap color is decided you move on to picking a design from their gallery of traditional celtic designs. Once you have decided which guitar strap color and which celtic design you prefer you then pick the design's color from a selection of colors available in each design.
With hundreds of possible combinations, www.cleticguitarstraps.com is sure to have something for everyone.
All guitar straps are suitable for either acoustic or electric guitars and come with an acoustic tie included for your convenience. All straps are vegan friendly and feature end tabs made from a new high tech synthetic leather material. In extensive testing this new synthetic material has proven to out-perform traditional leather end tabs. All straps feature non-scratch plastic hardware and are fully adjustable from 32-58".
They invite you to visit www.celticguitarstraps.com today.
About Legacystraps.com
Since 1971 Legacystraps has been supplying musicians with high quality affordable guitar straps, saxophone straps, trumpet valve guards and other musical accessories. Featuring unique tie-dye guitar straps, metal studded christian guitar straps, design saxophone straps, animal print trumpet valve guards and jacquard woven rock-a-billy straps Legacy has been an innovator in the field of graphical instrument accessories. Visit Legacystraps at http://www.legacystraps.com