Enhanced Vision Introduces the New Pebble HD, a High Definition Hand-Held Magnifier Offering Independence On-the-Go for the Visually Impaired
Pebble HD boasts a new HD camera providing a crisp, clear, colorful, high definition picture. A new ergonomic lightweight compact design makes it the perfect companion whether at home or on the go. Carry Pebble HD in your purse, pocket, or clip it on your belt with the included carrying case.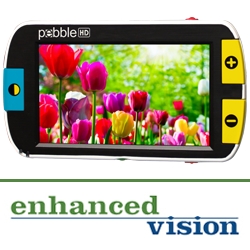 Huntington Beach, CA, August 01, 2013 --(
PR.com
)-- In 2010, consumers with
low vision
rejoiced when
Enhanced Vision
released an adjustable and portable electronic magnifier that could be used virtually anywhere. Pebble's convenient size made it an ideal solution for reading medicine bottles, price tags, and restaurant menus, any place, any time. Enhanced Vision has increased the power, added more features, and streamlined the design of the Pebble, giving consumers high definition in the palm of their hands.
Pebble HD
takes everything users loved about the original and made it even better with a new high definition camera and an innovative 7.2 ounce light-weight ergonomic design thin enough to slide into a pocket. The colorful 4.3" HD display provides vibrant clarity, bold images and uncompromised power with fully adjustable magnification between 1.25x - 13.5x. Complete with a multi-purpose fold out handle, audible feedback, longer battery life, and clock/calendar, Pebble HD is the ultimate low vision solution.
Portability
Pebble HD
is a multi-purpose, fully adjustable low vision solution that gives visually impaired users the ability to instantly read mail, write checks or examine items, simply and effectively. No more squinting and no more hassle switching between glass lenses or awkward, bulky contraptions; Pebble HD's compact size and strength lets visually impaired consumers keep their independence making it the perfect companion on the go.
Precision
With a new 4.3" high definition display, the
Pebble HD
is equipped to instantly deliver crystal clear magnification, quickly and effectively. The new design allows for users with low vision to continue reading, writing, and other hobbies that they used to cherish. For example, the Pebble HD now has a handle capable of balancing the magnifier over a small table or ledge, making it easier than ever to write checks, sign cards, or fill in crossword puzzles. All through a vibrant high definition display, capable of enhancing small details with acute precision, giving low vision consumers the ultimate in reliability and effectiveness.
Pebble HD
Effectiveness, functionality, and ease of use; all things low vision consumers expect in assistive technology, and what they get with the
Pebble HD
. A stunning, colorful display, with deeper magnification and easy-to-use tactile buttons, the Pebble HD is ready for anything. 28 different viewing modes (with an adjustable brightness level and light) allow the Pebble to be used in a wide variety of situations, from dimly lit restaurants to the local pharmacy. Users can avoid the hassle of writing down information by using the Pebble HD to snap a picture of a label with the push of a button, saving the information for later. The new 4.3" sharp display, a multi-purpose handle, auditory feedback, and longer battery life are just a few of the many improvements that make the Pebble HD the ultimate in handheld magnification.
About Low Vision
Currently, more than 15 million people in the United States are diagnosed with a visual impairment, such as Macular Degeneration or Glaucoma, which makes daily activities like reading, writing, and working a real challenge. Considering that this number is expected to double within the next decade, leading eye care specialists agree that video magnification is an effective low vision solution. Enhanced Vision continues to design the most powerful and affordable low vision magnifiers available, with the intention of restoring confidence in the lives of anyone who yearns to see clearly.
About Enhanced Vision
Enhanced Vision
is the leading developer of innovative low vision magnifiers designed specifically for people who struggle with low vision due to macular degeneration, and/or other visual impairments. The company offers a comprehensive line of electronic magnifying solutions, giving thousands the chance to regain their visual independence by providing the ability to read, write, watch TV, and other activities they used to cherish. Products like the portable Pebble HD handheld give users the ability to travel anywhere with an all-in-one adjustable magnifier. Enhanced Vision's new High Definition CCTVs feature text-to-speech technology, giving users the option of having documents, books, and magazines read aloud. All of these products are designed and built at the corporate office in Huntington Beach, California. Enhanced Vision products are available in more than 70 countries worldwide.
Contact Information:
Enhanced Vision
(888) 811-3161
(714) 465-3400
Contact
Enhanced Vision
Jeri Scanlon
800-440-9476 x2348
www.enhancedvision.com

Contact