Talking Dog Reporters in Your Community
Picture A Moment Pet Productions' new website is part of a new and unique Canine Barketing Strategy that brings fun solutions to reduce pet overpopulation.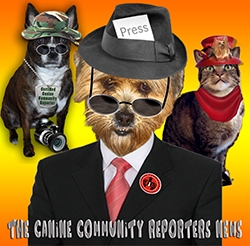 Harrison, AR, August 14, 2013 --(
PR.com
)-- Kathy Tarochione, owner, Picture a Moment Pet Productions LLC (http://www.pictureamoment.com) announced today the launch of "The Canine Community Reporter News" (CCR), a website (
http://thecaninecommunityreportersnews.com
) that presents the news from a canine's point of view.
The creation of CCR is a natural extension of Picture A Moment Productions' understanding of the human/canine bond and raising awareness about shelter dogs.
"It's all about the animals," Tarochione said. "Our strategy with CCR is to give dogs a voice by reporting the local news through their eyes. The curiosity of humans bring them to the website where it's more than dogs and reporters. As readers start understanding 'how dogs think', they are invited to learn to Speak Dog and receive interactive life lessons from dogs. This venue is a big hit with animal lovers with hopes of changing the view of a shelter dog as a homeless animal to a family member that simply wants to go home. The ultimate benefit is it allow us to create fun solutions and bring a unique awareness to adopting shelter animals which will reduce the 9 to 11 million shelter animals that are euthanized annually."
The spokesdogs for the website are Charlie & Mandie Tarochione, furkids of the company's owner. Charlie brings 3D animated talking highlights of the weekly news and Mandie, reporting as a Canine Reporter from Heaven, helps deceased pets cross over Rainbow Bridge with "Celebration of Life" options.
The individual Canine Community Reporters (http://caninecommunityreporters.com) are digitally/literally dressed with hats and other accessories and resources such as Pet Driver's Licenses, Pet Press Passes, PetCams that help enhance their individuality and build their respective images.
The garb is also meant to provide a sense of fun, provide instant recognition and build brand awareness of the individual Canine Community Reporters.
Launch of the new site was August 12, 2013, and a percentage of the proceeds generated at the websites will be donated to selected animal shelters.
"CCR is an eMagazine venue that provides readers news from a dog's point of view," says Tarochione. "With our experience in digital graphics, 3D animation, video production, media, social media and then combined with our understanding of the bond between humans and dogs we are confident we can bring our visitors highly rewarding experiences at CCR."
The strategic canine marketing plan includes social media integration with Facebook (
https://www.facebook.com/caninecommunityreporter/app_106171216118819
), Twitter, LinkedIn, Google+ Hangouts on Air, ScoopIt, Pinterest & Instagram targeted as the key sources.
Future plans of Picture A Moment Pet Productions include the launching of Wccr TV which will utilize some of the Canine Community Reporters. These canine personalities will become animated SpokesDogs on Wccr TV for canine marketing programs and as canine personalities and actors for programming and commercials.
About Picture A Moment Pet Productions LLC:
Picture A Moment Pet Productions is a digital and media company that was founded in 2010 by Kathy Tarochione. The company uses the Internet, social media and other venues to communicate to and distribute information to dog and pet owners in interesting and innovative ways.
Since its founding, the company has launched PETographs (Fine Art Pet Creations), the tag for the site is PhoDOGraphy. Canine Marketing and a Giving Back Program gain an ever growing following among dog and pet owners. One of its primary missions is to increase awareness among animal lovers and the public of the 9 to 11 companion animals a year that are euthanized at shelters in the United States.
Marketers of Dog and Pet Products and services are finding Picture A Moment Pet Productions, LLC various activities such as shelter and humane society fundraisers, shelter photo shoots, dog festivals, pet related expos, and community pet awareness functions draw highly involved pet owners.
Contact
Picture A Moment Pet Productions LLC
Kathy Tarochione
870-743-3980
www.pictureamoment.com
www.facebook.com/caninecommunityreporter

Contact