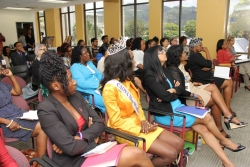 Howey In The Hills, FL, August 18, 2013 --(
PR.com
)-- The U.S.-based Caribbean American Domestic Violence Awareness (CADVA) brought its anti-violence campaign initiative to Trinidad and Tobago early August. A series of events under the theme: "UNITE TO INSPIRE: EDUCATION CREATES ACCEPTANCE," launched "Operation BUILD-BOARD" in partnership with IMRARC (Irene Madray's Recreational Arts and Resources Center-Local NGO of Guyana focusing on Youth Development) and the Miss World Guyana Organization in an effort to improve the health and well being of our Caribbean children globally. CADVA participated in marking International Youth Day on August 12th with Trinidad's YOUTH IN (A Caribbean Network for Youth Development) in their movement for change. CADVA's series of paintings by Guyanese Artist, Carl Anderson, Reflection: Faces of Domestic Violence was on full display at the National Academy of Performing Arts in Port of Spain, Trinidad with hundreds of supporters in attendance to see the Youths' of Trinidad performance through the arts. Miss World Guyana 2013, Ruqayyah Boyer, also performed in collaboration with the other youths.
The primary concentration for these events were:
· The Impact of Sexual Violence and Sexual Abuse
· Shifting the Cultural Mindsets to Promote A Healthier Perspective towards Women's Sexuality
· Bullying Prevention: Bridging the Gap between our children, youth, parents, teachers and community
Events were hosted by the US Embassy, Ministry of Education, Rotary Club, Pipiol Angels and Youth In. The attendance for each event exceeded expectations. It was clear to CADVA that Trinidad has fully embraced change in the platform of domestic violence with both NGO and Governmental bodies working in tandem to effect change. The events were graced by head of social services, heads of judicial arm, heads of Victims and Witness Support Unit, Margaret Samson-Brown, and the honorable Margaret Diop, Charge De d'Affaires of Trinidad and Tobago. Many others who have the passion and ability to effect change were present at most of the events.
CADVA thanks the country of Trinidad and Tobago for the support and the welcome to the CADVA team and message. CADVA is poised to spread its wings in other Caribbean countries in 2014 and beyond.
CADVA is a US based Non-Profit Organization focusing on advocacy against Domestic Violence by grass roots community efforts, partnering and involvement throughout our Caribbean Region.
Media Contact:
Email: help@cadva.org
US Phone#: (407)-404-0331
US Phone#: (917)-399-5764
Website:
www.cadva.org