Helen Darras, Licensor and Producer for a Dark Horse Comics Graphic Novel to Appear at the 2013 Cardiff Film & Comic Con, Wales, Aug. 31 - Sept. 1
Helen Darras appearing as a guest, to promote a Dark Horse Comics science fiction graphic novel she produced for them, in Wales at the Inaugural 2013 Cardiff Film & Comic Con, August 31 - September 1.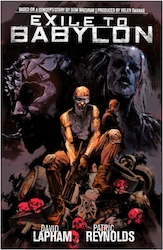 Hollywood, CA, August 26, 2013 --(
PR.com
)-- Helen Darras, Licensor & Producer for a Dark Horse Comics Graphic Novel will be appearing as a guest in Wales at the Inaugural 2013 Cardiff Film & Comic Con, held August 31 - September 1. Helen will be promoting Dark Horse Comics Graphic Novel "Exile To Babylon," a Science Fiction, futuristic styled book she produced which has already received great editorial reviews. Other celebrity guests appearing at this event include: David Hasselhoff, David Prowse (Darth Vader), Robert Englund (Freddy Krueger) & Kenny Baker (R2D2), Lance Henriksen (Alien 3, Terminator, Damien: Omen II) & David Roach (of Dark Horse Comics, DC & Marvel), just to name a few.
Publishers Weekly (founded in 1872) Reviewer Glen Downey, published his review of "Exile to Babylon" and he stated: "Even for those who can't get enough of humanity-on-the-brink stories with high-octane explosions, nonstop action, and lots and lots of tattoos, this adaptation of Dom Mazuran's 2013 film deserves to be called action-packed. The story is set in 2040, when resources are scarce and a critical fuel supply is in the hands of a ruthless overlord; the only hope for liberation lies with the Blackshield Angels, street-gang thugs who have been reeducated by a private military operative. It's a brutal world, especially in the war-torn landscape known as Zone 12, where the Angels' top agent kicks as much ass as possible—not because he's one of the good guys but, as the reader soon learns, only one of the gooder guys. To call this adrenaline-churning tale a page-turner is a ridiculous understatement. Eisner Award Winner David Lapham (Stray Bullets, The Strain) and Patric Reynolds (Let Me In, Volume 1: Crossroads) keep up the pace with gritty, realistic dialogue and dynamic sequences that allow readers to quickly fill in the gaps. But they also get it right in those quieter moments when the fireworks aren't going off, lending some depth to all the frenetic action. (June 2013)"
Scott Allie served as Sr. Editor on "Exile To Babylon." Scott, who became Editor-In-Chief in October 2012 for Dark Horse Comics, has been famously known for his work on "Hellboy," "Buffy The Vampire Slayer," "Star Wars," etc. The publisher of this book is Mike Richardson, Founder of Dark Horse Comics and President of Dark Horse Entertainment.
"Exile To Babylon" is for sale on many websites, including Dark Horse Comics (where it's also available as a Downloadable Digital Copy)
digital.darkhorse.com/profile/3074.exile-to-babylon-1-4-bundle/
, Amazon, Barnes & Noble, etc. However, at the Cardiff Comic Con in Wales, Helen Darras will be autographing copies of the book, as well as giving out free T-shirts, bookmarks & bumper stickers, until supplies run out. Helen Darras is looking forward to personally greeting all Dark Horse Comics & "Exile To Babylon" fans this weekend at the show.
Contact
Incorporate That, Incoporated
Helen Darras
(631) 371-6190
http://www.imdb.com/name/nm4446519/
https://digital.darkhorse.com/profile/3074.exile-to-babylon-1-4-bundle/

Contact