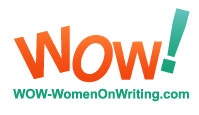 Placentia, CA, September 08, 2007 --(
PR.com
)--
WOW! Women On Writing
turns one this month. WOW! is a global magazine that promotes the communication between women writers, authors, editors, literary agents, publishers and readers. Over the year WOW! has featured various in-depth profiles and interviews with industry professionals, such as author Amy Tan, literary agent Sandra Dijikstra, and aspiring writer/celebrity Tiffani Amber Thiessen, and celebrity Linda Wang.
In noteworthy and rare exchanges in its youth, WOW! interviewed Nan A. Talese of Doubleday, Ann Moore, CEO of Time, Inc., and Carole Stuart, publisher of Barricade Books.
WOW! Founder and CEO, Angela Mackintosh, commented, "If you would have asked me a year ago where I thought WOW! Women On Writing would be today, I certainly couldn't have imagined this tremendous success--everything from interviewing powerful and gracious women like Ann Moore, CEO Time, Inc. to chatting face-to-face with my mentor, Amy Tan. But it's the readers that are dearest to my heart, and each day I'm thankful to be part of such a warm and inspiring community of women writers."
WOW! has received frequent compliments throughout the year from various individuals. Lissa Warren, Publicist, wrote, "Wow indeed. Women on Writing is an excellent source of information for writers--aspiring as well as established. And unlike so many sites these days, it has a personality." Literary Agent, Jennifer DeChiara, states, "I know WOW! is going to be huge." Spring contest winner and WOW! reader, Evelyn Marentette, of Ontario, Canada, writes: "On another note, I want to congratulate you for the wonderful job you do every day. When I enter your website, a feeling of grace, kindness, and generosity of spirit prevails."
You can visit WOW! Women On Writing at http://www.wow-womenonwriting.com/ or write to the editors@wow-womenonwriting.com for more information.
Angela Mackintosh
740 S. Van Buren St. Ste, D
Placentia, CA 92780
angela@wow-womenonwriting.com
###