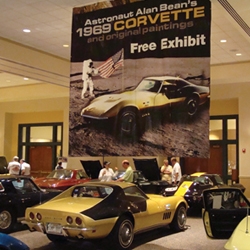 Dallas, TX, September 11, 2013 --(
PR.com
)-- The approaching Corvette Chevy Expo will present some unique and exciting displays September 28 and 29 at the Dallas Market Hall. Here is just a sampling of what to expect
Owner, Danny Reed, from Austin, Texas will exhibit his 1969 "AstroVette" that was originally owned by Astronaut Alan Bean, who in November 1969 became the fourth man to walk on the Moon.
The AstroVette was ordered through a special lease program from Chevrolet's General Motors to early American astronauts for $1 a year. This executive lease program was implemented as a means of sidestepping a ban on astronauts making product endorsements.
There were three such Corvettes specifically ordered for the Apollo XII crew. Danny Reed's 1969 Corvette Coupe is the only known remaining AstroVette.
The three of kind Corvettes had the big block 390 HP Turbo-Jet V8 engine, and all painted the Riverside Gold and Black design especially prepared for the Apollo XII Astronauts by industrial designer Alex Tremulis.
The triplets carried a logo that denoted each astronaut. Inside the logo, flight classification initials identified the astronauts. The initials "LMP" appears over the blue in the emblem on Alan Bean's Corvette standing for Lunar Module Pilot. Pete Conrad had the red with CDR in it, which stood for Commander, and Richard Gordon, Jr. was a white tag with CMP, for Command Module Pilot. The exhibit will be on display all weekend with other memorabilia at the Corvette Chevy Expo at Dallas Market Hall.
Chevrolet enthusiasts have been waiting to see the new Corvette Stingray. The wait is over. Friendly Chevrolet will bring the "Ray" as a special feature. The new seventh-generation 2014 Corvette Stingray will be powered by the 6.2-liter V8 coupled to a 7-speed manual transmission. The engine provides 460 hp of torque at 4,600 rpm with the performance exhaust and can go 0 to 60 in 3.8 seconds.
In addition to these features, spectators will be treated to some of the finest Classic Chevrolet show vehicles. Viewers will see numerous awards winning matching numbers Chevys, Tri-Fives, Resto-Mods, Pro-Classics, Vette-Rods, G-Machines, and Custom Trucks.
The expo opens its doors to spectator's Saturday, September 28 at 9 AM and runs until 7 PM. Sunday the event reopens at 9 AM. At 3 PM, the Miss Corvette Chevy Expo bikini contest takes place, conducted by Swimsuit USA followed by the Awards ceremony.
For more information or to purchase tickets for the upcoming expo, the event co-coordinators can be reached at 386-775-2512 or visit their website at
http://corvettechevyexpo.com/
.