2014 FIFA World Cup Brazil™ Official Poster and Host City Posters Now Available Online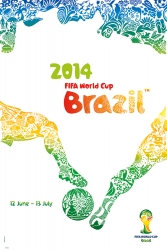 Hillsborough, NC, September 12, 2013 --(
PR.com
)-- Sports Endeavors Inc. are pleased to announce the arrival of the 2014 FIFA World Cup Brazil™ Official Poster and the 12 Host City posters in FIFA's new e-commerce platform. This stunning poster range is now available to football fans all over the world on FIFA's official online store. (http://www.FIFA.com/Store).
The Official Poster artwork depicts the beauty and diversity of Brazil through colourful, emotional and vibrant design. The creative concept at the heart of the Official Poster is "An entire country at football's service – Brazil and football: one shared identity." This is evident throughout the Official Poster, particularly where the player's legs challenging for a football reveal the map of Brazil.
The Host City Posters aim to portray the main characteristics of the Brazilian cities that will be proudly welcoming football fans during the event. Each Host City developed their own poster, where they chose to showcase well-known landmarks, their passion for football, as well as the historical, cultural and natural icons unique to each city. Further background on the Host City Posters can be found at http://www.fifa.com/worldcup/destination/posters/
The Official FIFA Online Store is the home of Official Licensed Products for all FIFA Competitions.
About Sports Endeavors, Inc. (SEI)
Sports Endeavors, Inc.(SEI), a company based in Hillsborough, North Carolina, USA is managing FIFA's new international e-commerce platform (excluding Brazil, Japan and some Asian territories) on FIFA.com.(ww.fifa.com/store). SEI is a privately owned internet and catalog retailer of soccer, lacrosse, and rugby product.
About FIFA
The Fédération Internationale de Football Association is the world governing body of football, comprising 209 football associations grouped into six confederations and is based in Zurich, Switzerland. For more information on FIFA and its competitions, especially the 2014 FIFA World Cup Brazil™, please visit the official website at www.FIFA.com.
In recognition of Visa's valued sponsorship, www.FIFA.com prefers Visa for all online transactions.
Contact
365 Inc
John Killian
205-623-4496
365-inc.com

Contact