SuperiorControls Presents New Conveyance Technology at AMS NA 2013
SuperiorControls presented information on an assembly line conveyance technology that is new to the U.S. - Battery-free AGVs using Inductive Power Transfer (IPT®). These intelligent, flexible assembly lines help companies to maximize capacity utilization while providing a cleaner, safer work environment. SuperiorControls has partnered with Conductix-Wampfler, the inventor of this technology, and is now the leading supplier of IPT® assembly lines in the U.S.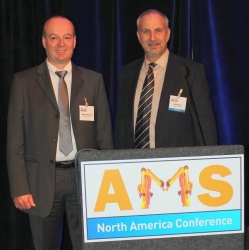 Detroit, MI, September 24, 2013 --(
PR.com
)-- Rod Emery, VP of Engineering for
SuperiorControls
in Plymouth, Michigan, presented a case study on Battery-free AGVs and Inductive Power Transfer (IPT®) assembly line conveyance at the AMS North America Conference on September 24, 2013.
SuperiorControls designs, builds and integrates turn-key assembly lines, including those utilizing IPT®, a wireless data and power transfer technology invented by
Conductix-Wampfler
. Mr. Emery emphasized that by choosing Battery-free AGV lines and IPT®, vehicle manufacturers can dramatically improve capacity utilization and significantly enhance line flexibility for model changes while also creating a safer work environment. In addition, installation risk is minimized because all AGVs, software and controls are proved out prior to delivery and facility changes are quickly accomplished.
The video from Mr. Emery's presentation can be found here:
http://youtu.be/G-VYgF1PIrM
Battery-free AGV Assembly Systems Make Better use of Existing Factory Space:
1. Improved Capacity Utilization: Unequal takt times can be managed by multiple assembly paths without any coupling/decoupling or elaborate transfer methods. Asynchronous and synchronous processes can operate without interruption. Cables and connections travel with the vehicle under production and the AGV charges continuously without leaving the line.
2. Flexibility for Model Changes and Launches: 90% of the capital investment is above ground and line changes are primarily based on software and controls, not chains and pits. Shallow channels for under-floor cables are quickly changed.
3. Safer Worker Environment: A flat floor, free of pits, chains and obstructions, eliminates the associated trip hazards. Battery-free AGVs sense an impediment and stop when something crosses their paths. 360° product access is provided. The workplace is clean, quiet and safe.
4. Conveyance Prove-out Before Installation: SuperiorControls operates the first of its kind IPT® test track in the U.S., proving out every AGV prior to shipment and minimizing installation time at the customer location.
Mr. Emery compared and contrasted his personal experience overseeing the design, build and installation of a traditional vehicle production conveyance system vs. an IPT® assembly line using Battery-free AGVs. The cost and risk of a traditional conveyance line change-over is a marked contrast from that required of an intelligent, flexible IPT® based line.
Widely used in Europe, Battery-free AGVs are relatively new to the United States. SuperiorControls has partnered with Conductix-Wampfler and is now the leading provider of IPT® assembly lines in the U.S. For more info, please contact Rod at remery@superiorcontrols.net.
IPT® is a registered trademark of Conductix-Wampfler.
Automotive Manufacturing Solutions (AMS) conducts events worldwide to support networking, information and business contacts for vehicle makers, tier suppliers and providers of systems, materials & services.
SuperiorControls designs and builds to advance the art of manufacturing, through automation, gaging and factory intelligence. Headquartered in Plymouth, Michigan, SuperiorControls operates engineering and technical centers across North America and is hiring engineers for a variety of disciplines. Mr. Emery is a graduate from the University of Michigan, a recipient of the William J. Branstrom Award for Academic Excellence and is a licensed Professional Engineer.
Contact
Superior Controls, Inc.
Brooke Elliott
734.454.0500
superiorcontrols.net
Mobile: 734.788.9441

Contact