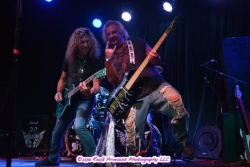 Tampa, FL, October 02, 2013 --(
PR.com
)-- After reuniting for a concert in Pittsburgh, PA last month, Tate Recording Artist
20 Shades,
and their original bassist,
Davey Angelo
have permanently reunited for the remainder of shows in 2013 and for tour support and a new CD release in 2014. Davey played with 20 Shades for over 2 years in its infancy, including short tours with WASP, Stephen Pearcy (Ratt), Blue Oyster Cult, and a guest appearance at the Super Bowl festivities in Tampa in 2009. Following Davey's departure in 2010, 20 Shades provided direct support for other national recording acts including a multi date, US Tour with LA Guns.
20 Shades leader and front man James Pergolatti broached the concept of a reunion with Davey in the summer of 2013 – and after their performance in Pittsburgh, it was obvious that the stage energy between James and Davey was stronger than ever. Drummer Thumper Parthemer and Lead Guitarist Daniel Sorrow will round out the lineup for their CD release and follow up tour both slated for 2014.
According to James, "There are so many big things coming at us for 2014, it's just perfect timing for Davey to be back on board. I am very excited to say the least. Reuniting with Davey has sparked a new high in this lineup and I feel it will come across in a big way on the upcoming release and even more so in the live shows. It will Rock."
You can catch 20 Shades at their next concert performance on October 27 in Nashville, TN at the Hard Rock Café at 100 Broadway, Nashville, TN. Showtime 7pm ET.
Contact:
20 Shades
James Pergolatti c/o Tate Music Productions
jpergolatti@gmail.com
www.20shades.com
www.daveyangelo.com