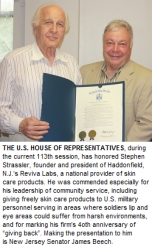 Haddonfield, NJ, October 04, 2013 --(
PR.com
)-- For aid to American troops overseas, and for other public services, Reviva Labs, Haddonfield, N.J., has been honored by the full Legislature of the State of New Jersey.
The honor was in a joint legislative resolution recently by the Senate and General Assembly, and signed by both the President of the Senate and the Speaker of the General Assembly.
This year marks Reviva's 40th year of creating formulas and products providing skin care to men and women nationally and world-wide.
The Legislative Resolution said, in part:
"…Reviva Labs has continued to provide its customers with safe and effective skin care products, and the company is renowned for introducing the first non-chemical European Exfoliant to America, which is known as the Light Skin Peel…
"By remaining faithful to its traditions of creating all natural skin-care products, Reviva Labs has earned a sterling reputation for its integrity, vision, and dedication, and they are especially commended for not testing on animals…"
Reviva Labs is a key pioneer of skin-care education, and is recognized as a leader initiating new, beneficial products, such as exfoliants, topical trace minerals, glycolic acid, hyaluronic acid and lighten and brighten skin creams.
Reviva Labs publishes, as a courtesy service, a "Beauty News" skin care informational booklet. It is available upon request which can be made online at www.RevivaLabs.com, plus thru Facebook at www.facebook.com/revivalabs, or by sending a letter to Reviva Labs, 705 Hopkins Rd., Haddonfield, NJ 08033; Tel.: 1-800-257-7774; Fax: 856-429-0766.