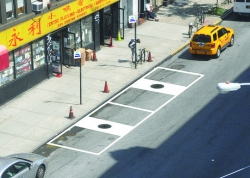 New York, NY, October 08, 2013 --(
PR.com
)-- HEVO Power is paving the way for electric vehicle adoption through an innovative wireless charging technology. Its novel product has gained HEVO Power a spot as a semi-finalist for the SAFE (Securing America's Future Energy) Emerging Innovation Award.
SAFE, an organization devoted to reducing America's dependence on oil, philosophically aligns with HEVO Power CEO and Founder Jeremy McCool's objective for starting the company. After serving in Iraq, McCool pledged to help America become less reliant on foreign fuel. This led to HEVO Power's wireless charging technology, geared toward eliminating barriers typically encountered by commercial fleets looking to adopt electric vehicles.
Most commercial fleet plug-in stations are at risk for vandalism, faulty plug-in connectors, and drivers forgetting to plug-in and backing into the charge-up kiosks. HEVO Power's wireless solution -- an embeddable station, similar in look to a manhole cover -- is safe, unobtrusive and eliminates risks associated with plug-in stations, all while offering a charge rate that is up to three times faster than other wireless charging competitors.
"We are trying to build a community where there are no cords, cables or wires," said McCool.
The SAFE Award is based on three components: a 90-second pitch, public voting and a final presentation at the OPEC Oil Embargo +40 Summit. After the 90-second pitch and public votes are counted, three companies will be sent to the finals for the third component. Public voting is open until October 11th.
Help HEVO Power become part of the sustainable future by voting for the Emerging Innovation Award at
www.oilembargo40.org/#vote
About HEVO Power
Built on the vision of creating the global standard for wireless charging, HEVO's mission is to accelerate the adoption of electric vehicles (EVs) through the deployment of its wireless charging network. By offering a wireless charging option to EV owners, HEVO's products provide a safer, as well as a more efficient and affordable method of charging EVs than the plug-in charging stations currently leading the market. The company will be piloting its technology with commercial OEMs, municipalities and large corporations beginning in early 2014.
About SAFE
SAFE is an action-oriented, nonpartisan organization dedicated to reducing America's dependence on oil by educating policymakers and advocating for comprehensive energy.