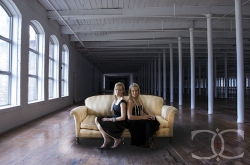 Spartanburg, SC, October 10, 2013 --(
PR.com
)-- Tonight, history was continued in an historic setting at Broad Margin, a Frank Lloyd Wright designated, nationally-recognized historical landmark as Couture Closets launched an exclusive consignment digital store showcasing the world's finest designers. Two southern entrepreneurial businesswomen Amy Zimmer whose passion is fashion and design, and Karen Floyd, an attorney, who specializes in marketing and technology, have joined forces to create a unique web-based shopping experience for the discerning fashion consumer.
"The Upstate of South Carolina has such a rich textile tradition," said Karen Floyd, co-owner of Couture Closets, "that we wanted to honor it in our launch.
Couture Closet's digital store marries the strong textile manufacturing of the fashion industry with textile marketing through an electronic medium
. We want our customers to experience first-hand that although the world of design and fashion is ever-changing, it doesn't have to 'break the bank' to enjoy luxury designer clothing."
Co-owner Amy Zimmer added, "I have always been intrigued to see how patterns, forms and shapes work together to create beauty. The exclusive and elegant backdrop of the Frank Lloyd Wright home just seemed the perfect setting for our launch 'Where Vintage Meets Chic'."
The hand-selected guests were presented an evening of previewing inventory, modeled by local celebrities, from the digital store and were also offered the opportunity to "open their own closets" to Couture Closets as a consigner.
Couture Closets can be found at www.couture-closets.com