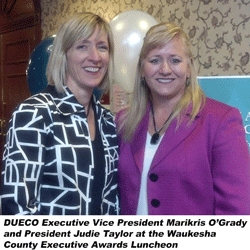 Waukesha, WI, October 10, 2013 --(
PR.com
)-- DUECO Inc., the largest final-stage manufacturer of Terex aerial bucket trucks and digger derricks in the nation, was recognized as the 2013 Waukesha County Executive's Business of the Year during an awards luncheon held October 10 in Waukesha, Wisconsin. The company was selected by an independent panel of judges representing the County Executive's office that included community leaders, area business executives and past award winners who assessed each nominee regarding how they meets the needs of taxpayers, customers, investors, employees, and the community at large.
DUECO was recognized in 2012 with the Top Business of the Year Award by the Waukesha County Business Alliance and Biz Times Magazine. These back-to-back wins are testament to the focus the company has on putting the customer first, continuously innovating and improving, and creating an environment that is positive for employees and the community.
Judie Taylor, DUECO President, commented, "We are so proud and humbled to receive this honor. At DUECO, we have a burning desire to take care of our customers and team members to make a difference in our industry. The hard-working, dedicated and customer-focused team at DUECO made this award possible."
DUECO customers include investor owned utilities, electrical contractors, municipalities and co-ops and members of the tree care, forestry and signage industries. DUECO also sells a line of utility truck bodies nationwide. The company is led by third generation President, Judie Taylor and her sister, Marikris O'Grady, executive vice president. The organization is women owned and has applied for certification as a Women's Business Enterprise and expects to achieve that status in December 2013.
About DUECO, Inc.
DUECO is the largest provider of Terex bucket trucks, digger derricks, and cranes for the utility market in the nation. DUECO also manufactures hybrid utility trucks and custom utility truck bodies and distributes mini derricks, aerial lifts, stringing equipment and trailers. Family owned and operated since 1955, DUECO's philosophy of teamwork, integrity, and open communication with customers and employees ensures high quality equipment at the best value. With headquarters in Waukesha County, DUECO services customers 24/7 in fifteen states and sells truck bodies nationwide. To learn more about DUECO and what the company can offer, please call us at 800-558-4004 or visit us on the web at
www.dueco.com