RECSOLU Appoints CEO to Lead Next Phase of Strategic Initiatives
RECSOLU Co-Founder Jason Weingarten has been appointed CEO, a key indicator of the company's planned expansion and execution of its next phase of strategic growth initiatives. The company's innovation pipeline and global client base have positioned it well for new product introductions that will further transform the HR industry.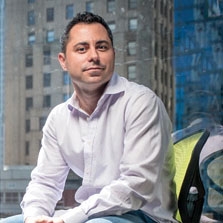 Chicago, IL, October 17, 2013 --(
PR.com
)-- RECSOLU LLC announced today it has appointed Jason Weingarten as Chief Executive Officer, effective October 15, 2013. The appointment of Mr. Weingarten, company co-founder and a leading serial innovator, signals an expanded focus on innovation, business expansion, and partnership development for increasing the scope of its products and services including RECSOLU Campus, RECSOLU Pro, InternSuite, Interview Scheduling, Convenience App, Collect App, and Recpass.
"I am excited to be focusing on the management of our innovation pipeline and the solutions we provide to more than 130 major corporations globally," said Weingarten. "I am also looking forward to working more closely with our external stakeholders and ensuring we deliver the next phase of unmatched products and services that will have an even greater impact on the HR industry than those we've already introduced."
Most recently, Weingarten served as President of Global Operations and shared the executive leadership role with his co-founder Daniel Bartfield. Bartfield has also accepted an expanded role as company President and will manage the operations, products, services, and brands that enable top employers to source and recruit more than 25,000 new hires annually.
"This is a strategic move for the company and one that enables the team to maintain its unparalleled track record for success in designing and introducing innovative products and solutions for many of the world's largest employers," said Jon DeLuca, RECSOLU Board of Directors.
About RECSOLU:
RECSOLU is the leading web and mobile recruitment software, services, and consulting company based in downtown Chicago. Since its founding in 2008, the company has established client partnerships with 130 major employers globally, these organizations create an exceptional candidate experience for more than 150,000 employee prospects annually. The company's significant investment in innovation, product design, and award-winning talent have enabled it to be recognized by media and Chicago Mayor Rahm Emanuel as one of Chicago's leading growth-phase companies.
Contact
RECSOLU
Jeff Beavers
312-624-8294
recsolu.com

Contact