News for Diabetic Skin from All-Natural Skin Care Company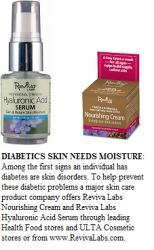 Haddonfield, NJ, October 28, 2013 --(
PR.com
)-- A serum-under cream duo that has achieved dramatic results for dry, diabetic skin is now available from Reviva Labs, whose skin products are sold in Health Food Stores and Skin Care Salons.
Diabetic's skin needs moisture. Reviva claims its hydrating Hyaluronic Acid Serum (HA) alone can visibly add moisture to diabetic skin.
But in skin salon tests, when the HA Serum was lightly massaged into skin with Reviva's Essential Fatty Acid Nourishing Cream applied over the serum, an even more dramatic result was seen. The complexion, Reviva claims, showed smoother, more moist, supple skin.
A Reviva spokesman asserts "the synergy between the two products is something like 'one plus one equals four'."
Reviva Labs Hyaluronic Acid Serum in 1-oz. bottles and Fatty Acid Nourishing Cream in 1 ½-oz. jars, are available in leading Health Food Stores and ULTA Cosmetic Stores or from Reviva's website: www.RevivaLabs.com.
Contact
American News Services
Joe Ball/Elena Cruz
484-562-0060

Contact