Exit Planning EDU Website Promises to Educate Business Owners with a Fresh Approach to Exit Planning
New Exit Planning EDU website launches to help business owners plan a path to their business ownership independence with a more empathetic, systematic approach to Exit Planning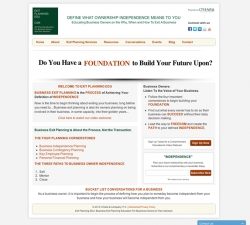 Boston, MA, October 29, 2013 --(
PR.com
)-- Bob O'Hara of O'Hara & Company, PC announced today he has created a new interactive, educational website to help business owner's approach Exit Planning in a more empathetic, systematic manner while helping them to define what business ownership independence someday will mean to their future and the future of their businesses. The website (
ExitPlanning-EDU.com
) is one of a kind, educating owners on a new approach to successful Exit Planning, emphasizing the process of building business value and leaving behind the past emphasis of the transaction, while encouraging business owners to start planning for a future independence long before they need to and assisting those baby boomer business owners wanting to stay, in some capacity, into their golden years while still experiencing freedom to enjoy their personal life.
Bob O'Hara (CPA/PFS, CExP™), created the Exit Planning EDU site as an online resource to ignite more conversation about the topic, hoping to turn fear of the subject into planning and enlighten the users of the site with a variety of tools and resources to ensure the Exit Planning process is a positive experience. Highlighting the four important planning cornerstones of Exit Planning and three paths to Business Ownership Independence, it is the goal of the site for business owners to ask themselves, can my business someday succeed without me?
According to O'Hara, "The EDU site is a great resource for business owners, not only is it devoted to educating on the when, why and how to exit a business, but it also stresses the importance of communicating with your business whether you are five, ten or thirty years away from retirement and shares an excitement to defining what individual independence may be, while providing interactive, online tools to help with their exit planning needs."
A hot topic amongst baby-boomers, the ease of the Exit Planning EDU site is evident, featuring live chat, articles, planning strategies, complimentary webinar registration, newsletter options, the Business Independence Blog and the most popular page- video conversations that every business should have.
Addressing the importance of one of the four cornerstones, Business Independence Planning, O'Hara noted, "As a business owner, it is important to begin the process of defining how you plan to someday become independent from your business and how your business will become independent from you."
O'Hara is also featured on Exit Planning EDU's YouTube channel, sharing conversations, positive Exit Planning approaches and education for business owners and their advisors. https://www.youtube.com/user/ExitPlanningEDU
To explore the Exit Planning EDU website, visit http://www.exitplanning-edu.com/ and please visit the Business Independence Blog at http://www.exitplanning-edu.com/blog/
Contact
O'Hara & Company/Exit Planning EDU
Claire Burgess
339-788-7476
www.ExitPlanning-Edu.com

Contact