XCom Global Now Offering Special Trade Show Internet Packages
Mobile hotspots provide affordable Wi-Fi access to event and trade show attendees.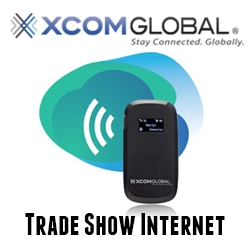 San Diego, CA, November 04, 2013 --(
PR.com
)-- XCom Global, Inc., a leading provider of reliable 3G/4G wireless Internet access rental services for international travelers, announced today it has put together a special
Trade Show Internet Package
for trade show and event planners.
"We can provide significant savings on Internet access to trade show exhibitors and event organizers," said Seiji Nishimura, founder and CEO, XCom Global, Inc. "Exhibitors are able to connect to secure and reliable wireless Internet at a fraction of the cost that the venues charge. This enables organizations to engage with visitors more effectively, actively sign up new accounts, and drive purchases in real time. In addition, event organizers can cost-effectively provide Internet access to their attendees which is not only appreciated, but sometimes required for the day's activities."
Informa Telecoms & Media has enlisted XCom Global's Internet access rental service for their Wi-Fi & Small Cells events. Most recently an event was held in Singapore and attendees were quite pleased with the quick and convenient access to broadband services that Informa provided through its use of XCom Global's Trade Show Internet Package. Informa executives said the cost to them was a fraction of what the conference venues would have charged to offer daily Wi-Fi access through their network.
XCom Global's wireless data rental service allows trade show and event exhibitors to take advantage of XCom Global's pre-negotiated rates and arrange for data connectivity at a fixed rate during the expo or conference. As soon as event attendees reach their venue, they will have instant data access waiting for them. They simply power up their mobile hotspots from XCom Global's Trade Show Internet Package, and no technical expertise or unauthorized unlocking is required to provide private and secure connections including support for WPA2 and VPN pass-through.
The Trade Show Internet Package has been developed specifically for use at high-density events that contain a large number of users. XCom Global preconfigures the hotspots to minimize RF interference and maximize throughput with all available 3G/4G carriers. The Trade Show Internet Package supplies instant Wi-Fi access to as many users as needed, for a flat daily rate, at speeds typically equal to or superior to those the venue can provide.
About XCom Global, Inc.
Headquartered in San Diego, Calif., XCom Global, Inc. is a leader in providing easy access to low-cost, flat-rate, high-speed, secure, wireless Internet access rental services to business and leisure travelers. The company offers broad worldwide coverage at rates substantially below standard international roaming charges. XCom Global is a U.S. subsidiary of an established Japanese company that has been in the forefront of providing travelers with innovative wireless communications services since 1995. For more information, please visit www.xcomglobal.com, call 877-520-8242 or contact us at info@xcomglobal.com. In addition, get updates and travel tips by connecting with us on Facebook and Twitter.
Contact
XCom Global, Inc.
Seiji Nishimura
858-222-8242
www.xcomglobal.com
Media Contact:
Cynthia Guiang
CG Communications
858-793-2471

Contact