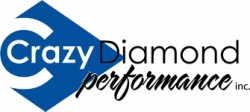 Shelby Township, MI, November 05, 2013 --(
PR.com
)-- Develops patent pending Low Pressure Direct Injection (LPDI)
Crazy Diamond Performance Inc. develops Low Pressure Direct Injection systems for gaseous fuels.
Crazy Diamond Performance Inc. (CDP) develops a patent pending system of fuel injection for Direct Injection (DI) applications. CDP has developed an innovative method to convert many DI engines to a gaseous fuel. With automakers fitting their product line with more efficient engines using DI, there were barriers in operating a gaseous fuel in a DI engine.
"We are very pleased to announce that we have successfully developed and are currently testing a new method of operation for using gaseous fuels in a DI engine. This patent pending technology injects the gaseous fuels such as, CNG, H2 or LPG, directly into the combustion chamber." The CDP LPDI system, will help change the alternative fuel industry, by expanding vehicle offerings and opens previously untapped markets for adaption of alternative fuels," said Kevin Fern President CDP. The LPDI system, removes some of the complexity normally associated with the DI engine architecture. Without having the added complexity of high pressure injection or needing to revert back to port injection, the LPDI method can satisfy current OEM engine technology.
Advancing technology though innovation
If you would like more information about this topic, please contact Crazy Diamond Performance Inc. at 586-884-6935 or email at kevinfern@crazydiamondperformance.com.
Contact: Crazy Diamond Performance Inc.
Telephone: 586-884-6935
Email: kevinfern@crazydiamondperformance.com
Website: www.crazydiamondperformance.com