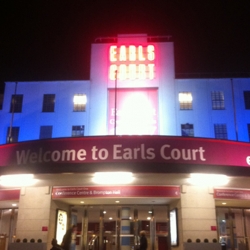 Berkhamsted, United Kingdom, November 08, 2013 --(
PR.com
)-- The Loafer Co Kickstarter project has 12 days to go, and is over 40% funded with 58 backers.
A week ago, a new backers reward was added, the Brown PU Leather iPad bag and this has been well received. With backers split roughly 50/50 now between the new variation and the original 16 oz. canvas bag.
From the 1st to the 3rd of December the small team from Loafer Co shared a stand at the prestigious 'Gadget Show Live' at London's world famous Earl's Court, with three other 'Kickstarters' and their projects.
Jolly Clothing -Funcky Retro Christmas Tee
RockStix 2 - Colour Change LED Drumsticks
Astronomy Diary
Limited Edition iPad bag by Loafer Co
It was a busy show at Earls Court held over 3 days and the Kickstarters seemed to be generating a lot of interest.
Mark from Loafer Co's comments about the show,
"Getting the bags out into the wild at the show was amazing and seeing the reaction to the Loafer Co branding is something I will remember forever!"
--Mark Cronin - Loafer Co
The press day at The Gadget Show proved to be a great opportunity for reviewers to get a first hand look at the backer rewards for the different projects.
"a stylish iPad bag designed to cut down the bulky size of a laptop carrier- whilst still affording the shelter of a protected bag. We liked the design and thought it was a great alternative to the standard neoprene or plastic cases usually offered with an iPad."
-- eBuyer.com
"the quality and design of these bags is brilliant. Honestly they are sturdy, solid and incredibly functional but at the same time stylish. The designer totally gets what is needed with a gadget bag."
-- GirlyGeekdom.com
Loafer Co is the final project from the show to finish and we watch with interest.
To find out more about this exciting new fashion brand and back the Kickstarter visit Kickstarter.com and search for Loafer Co