DUECO Welcomes Partners at Open House in Thomasville, PA and Announces Additional Locations for Customer Events
Company Showcases New 22,000 Sq. Ft. Facility, New Service Manager, New Products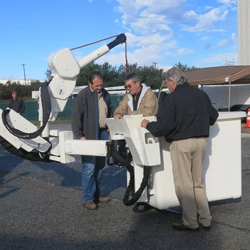 Waukesha, WI, November 08, 2013 --(
PR.com
)-- DUECO Inc., the largest final-stage manufacturer of Terex aerial bucket trucks and digger derricks in the nation, held a two-day open house November 7 and 8 in Thomasville, PA, to introduce customers and other business partners to their new 22,000 sq. ft. service facility and the team in place to support investor owned utilities, electrical contractors, municipalities, coops and tree care companies throughout the East Coast.
The Open House drew visitors from multiple states to meet Mike Charles, the new Service Manager for the Thomasville, PA and Medina, Ohio service centers, to learn of inspections, transfer services and training offerings, as well as to demonstrate several new trucks and features that were exhibited at ICUEE 2013 in Louisville.
Several vendors joined DUECO for the open house including PTI, Whelen, SDP, Federal Signal, and Equipment Marketing Inc. Terex Utilities and Terex Cranes also joined DUECO for the day.
Judie Taylor, DUECO President, commented, "We are very excited to be bringing exciting new products out into the field so our customers can learn firsthand of these advances that will mean even greater efficiencies and safety in operations. We look forward in the coming weeks to taking the new Terex Swing Arm Concept truck on tour to 6 different regional locations to gain input from customers. Their input is critical to assuring our offerings continue to be highly valued and truly make a difference in their businesses." DUECO team members also had the opportunity to visit with customers and hear their feedback on products, services, and training at a customer forum.
Visit one of these upcoming events to experience the Terex Swing Arm Concept truck:
Thursday, November 14th; Indianapolis, IN (Indiana REMC Suppliers Statewide Mtg): 7am - 4pm
Friday, November 15th; Marshall, MI: 8am to 11am
Monday, November 18th; Northwestern IN: 1pm to 4pm
Wednesday, November 20th; Waukesha, WI: 8am to 12pm
Thursday, November 21st; Eau Claire, WI: 10am to 2pm
Friday, November, 22nd; St. Cloud, MN: 9am to 1pm
DUECO was recognized in 2012 with the Top Business of the Year Award by the Waukesha County Business Alliance and was recently name the 2013 Waukesha County Executive's Business of the Year. These back-to-back wins are testament to the focus the company has on putting the customer first, continuously innovating and improving, and creating an environment that is positive for employees and the community. The organization is women owned and has applied for certification as a Women's Business Enterprise. Certification is expected in December 2013.
About DUECO, Inc.
DUECO is the largest provider of Terex bucket trucks, digger derricks, and cranes for the utility market in North America. DUECO also manufactures hybrid utility trucks and custom utility truck bodies and distributes mini derricks, aerial lifts, stringing equipment and trailers. Family owned and operated since 1955, DUECO's philosophy of teamwork, integrity, and open communication with customers and employees ensures high quality equipment at the best value. With headquarters in Waukesha County, DUECO services customers 24/7 in fifteen states and sells truck bodies nationwide. To learn more about DUECO and what the company can offer, please call us at 800-558-4004 or visit us on the web at
www.dueco.com
Contact
Dueco, Inc.
Louise Hermsen
800-558-4004
Direct Email: louise.hermsen@dueco.com
Direct Phone: 262-547-8500 x8212
Company Twitter: www.twitter.com/Dueco

Contact