Ecuador Freedom Bike Rental & Tours Incorporates Military Communication Technology Into Its Motorcycle Tours
New Technology Adds Safety and Fun to Motorcycle Tours in Ecuador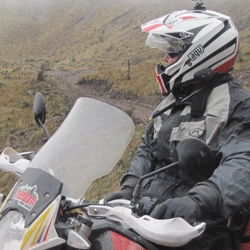 Quito, Ecuador, November 14, 2013 --(
PR.com
)-- After months of careful testing in several climatic zones and road conditions, Ecuador Freedom Bike Rental announced today that it will be making the UClear Helmet Communications systems a standard feature of its guided motorcycle tours. The use of the technology is expected to set a new industry standard in motorcycle tour operations.
The UClear helmet communication system is based on patented technology that was developed for intensive military applications in order to provide noise-free, clear communications in challenging environments. It is the first helmet-to-helmet communication system that uses an array microphone, not a boom that can impede visibility and reduce the reliability of the unit. With a patented digital signal processing system riders are able to communicate clearly without hearing excessive engine and road noise. It employs "daisy-chaining" technology so that a large group of riders can communicate over long distances without a loss of signal quality.
Ecuador Freedom Bike Rental
will be fitting all of its guided motorcycle tour participants with the system in order to provide a better quality experience, allowing the guides to point out interesting sites along their routes and alerting riders to potential road hazards. The system is easily installed and removed in each of the rider's helmets. The Quito-based motorcycle tour operator will make the system available to its rental and self-guided tour customers as well.
"We are pleased to be setting a new standard in the motorcycle tour industry with the adaptation of the UClear helmet-to-helmet communication system. It will add a new level of adventure and an overall better and safer experience for our customers," explained Court Rand, owner and guide for Ecuador Freedom. "We expect that our customers will appreciate the investment in technologies to improve their experience on our tours."
Contact
Ecuador Freedom Bike Rental
Court Rand
1-603-617-2499
http://FreedomBikeRental.com
In Ecuador +593 (02) 250-4339

Contact