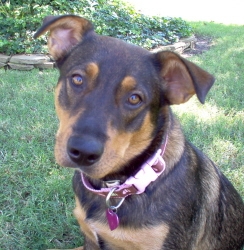 Tulsa, OK, September 18, 2007 --(
PR.com
)-- Sadie Mae Baird is a delightful real-life mixed breed dog rescued as a puppy by a very typical middle-class suburban teenage boy on Christmas Day, 2006. Sadie, however, is not a typical canine. She is a very wise, insightful and compassionate girl with much to share not only with her human friends and family but also with her readers. Sadie is a Canine Avatar, a living creature with a spirit that seems much older than her current incarnation would suggest possible. Sadie's purpose is to attempt to awaken the creatures residing upon planet earth of the vital inter-connectedness of all aspects of life to the expanded experience of us all. Sadie will warm your heart with her simple and practical approach to appreciating the beauty and bounty of life that surrounds each and every one of us each and every day.
Carolyn Arkison, mother and grandmother, inspired by the gentle spirit of the puppy, Sadie Mae Baird, rescued by her son on Christmas Day, 2006, has just published her first book.
Arkison felt compelled to describe the fear, abandonment and emotion experienced by homeless pets from the animal's perspective with the intent of raising compassion and awareness on behalf of these innocent creatures.
Billie London, professional photographer, comments, "I'm completely and utterly blown away! Sadie Mae Baird … Canine Avatar is incredible! I just love the way you talk in the first person for Sadie. I feel like I actually KNOW her now. I can really see this taking off with many other books in the future."
Writing the voice of Sadie Mae, Arkison discusses in detail Sadie's early entry into her new family, how much she appreciates being loved, and her canine observations of various human behaviors. She speaks with simple language and genuine emotion as she discusses topics such as hope, vision and purpose.
Arkison says, "My husband has encouraged me for years to write a book, feeling that I had talent. Once I met Sadie, it was as though the book wrote itself. The sweet spirit of this precious creature is so innocent. Thanks to Sadie's inspiration and Lulu Publishing I am now proud to be a published author."
This book can be purchased at www.lulu.com/carkison or simply visit www.lulu.com and type in Sadie Mae Baird into the search box.
###
Lulu.com: Lulu.com is the premier marketplace for digital content on the Internet, with over 300,000 recently published titles, and more than 4,000 new titles added each week, created by people in 80 different countries. Lulu is changing the world of publishing by enabling the creators of books, video, periodicals, multimedia and other content to publish their work themselves with complete editorial and copyright control. With Lulu offices in the US, Canada, the UK and Europe, Lulu customers can reach the globe.
Carolyn Arkison, a mother and grandmother, works in a small law office in Tulsa, Oklahoma, USA. She lives in Broken Arrow, Oklahoma with her husband, son and two canines, Sadie Mae and Krissi. Her book can be found at www.lulu.com/carkison . Carolyn can be reached at (918) 760-7068 or email: jolt@greatcoffee.ws.