Freehold NJ Orthopedic Surgeon Dr. Michael Greller Honored for Outstanding Patient Care and Expertise
Advanced Orthopedic and Sports Medicine Institutes' Orthopedic Surgeon, Dr. Michael Greller, has been awarded the prestigious 2013 Patients' Choice Award. Patients rate their doctors, and after receiving top scores, Dr. Greller has been singled out as one of the top orthopedic physicians for patient care and expertise.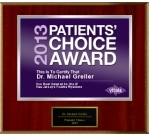 Freehold, NJ, December 05, 2013 --(
PR.com
)-- Advanced Orthopedic and Sports Medicine Institutes' Orthopedic Surgeon, Dr. Michael Greller, has been honored for outstanding patient care and expertise.
Dr. Michael Greller has been awarded the prestigious 2013 Patients' Choice Award. Patients rate their doctors, and after receiving high scores, Dr. Greller has been singled out as one of the top orthopedic surgeons for patient care and expertise in the nation.
Millions of patients go online each year to rate their doctors on various components of care, including accuracy of their diagnosis, the amount of time they spent with the doctor, the doctor's bedside manner and follow-up care. Patients' Choice reviews these rankings and other quality measures to compile its yearly list of award winners.
Only the top 5% of the nation's 870,000 active physicians received this honorable award in 2013. Dr. Greller's heartfelt reaction was captured when he commented, "I'm honored to receive an award that is based on the ratings from my patients. With experience, we have learned to do the little things right. We have learned that helping patients achieve their goals makes all the difference. When patients recognize you it means so much and for me it means that our entire practice shares in this award. Medical assistants, physician assistants, staff and the other talented surgeons of AOSMI all help shape the care and expertise that I bring to my patients."
Jon Mackler, AOSMI's Chief Operating Officer stated "Dr. Greller is always working to make patient care and quality the top priority in our practice. His leadership and expertise shape the care we provide everyday and to be recognized by his own patients underscores his commitment, not only to AOSMI, but to each and every one of his patients."
Dr. Greller's education and training at leading institutions has given him the opportunity to treat professional athletes, high-level Division 1 college athletes, and high school athletes. He has recently been appointed Team Physician for the N.Y./N.J. Comets, a National Pro Fastpitch women's softball team and was a team physician for Saint John Vianney High School Football in 2013. He has served as a physician for the US Open Tennis Tournament, Philadelphia High School football, Freehold Borough High School Football and several professional dance companies in New York City. His vast and diverse experience both in the office and on the field allows him to provide the best care to all of his patients. Dr. Greller's goal is to help his patients recover quickly. He works closely with trainers, therapists, nutritionists and other medical professionals to help his patients return to competition and regular activities.
Dr. Greller specializes in advanced, minimally-invasive shoulder, knee, hip, and ankle arthroscopic procedures, including ACL, rotator cuff and meniscus surgery. He also performs minimally-invasive hip, knee, and shoulder replacements. Dr. Greller, being on the cutting edge of technology in orthopedics, was one of the first New Jersey surgeons to do computer-assisted joint replacements in the tri-state area and he is always trained on the latest technologies to improve patient non-surgical and surgical outcomes. He also cares for adult and pediatric fractures, hand and upper extremity problems, as well as foot and ankle injuries.
In addition to overseeing the daily operations of the office as President of AOSMI, Dr. Greller is also the Assistant Director of the Cartilage Restoration Center of New Jersey (CRC). A division of AOSMI, the center is devoted to the treatment of cartilaginous injuries and damage to the knee and other joints. He utilizes the latest techniques in cartilage repair to eliminate pain, restore function, and reduce or delay the need for total joint arthroplasty, including cartilage regeneration and transplantation. Dr. Greller also uses platelet rich plasma (PRP) and stem cells to help regenerate and repair damaged joints and tendons through the Wellness Center and Cartilage Restoration Center. Dr. Greller is on the forefront of this evolving treatment and is trained in all the latest advanced techniques.
This year, Dr. Greller was honored to be named Secretary/Treasurer of the Medical Staff of CentraState Medical Center. Dr. Greller provides compassionate, personalized care and this past year was honored with an award for Most Compassionate Doctor. He also has been honored again for the 2013 Patients' Choice award in addition to having won it in 2008, 2009, and 2012. He also earned the AMA physicians' recognition award in 2012.
Dr. Greller is married with two children. In addition to spending time with his family, he enjoys playing basketball, following his favorite football and baseball teams, and getting together with friends in his leisure time.
Today, the surgeons at Advanced Orthopedics and Sports Medicine Institute (AOSMI) provide the Monmouth and Middlesex County communities with specialists for every orthopedic need. Located in the Pond View Professional Park at 301 Professional View Drive in Freehold, New Jersey,
Advanced Orthopedics and Sports Medicine Institute
provides advanced medical care with leading doctors and surgeons, with state-of-the-art technology, and exceptional Patient-Centered, Patient-Focused Care™. The practicing physicians at AOSMI have a combined 100 plus years of experience providing exceptional orthopedic care to the New Jersey communities of Monmouth and Middlesex County. They have offices located in Freehold, Monroe, Marlboro and Lake Como New Jersey. For more information, call 732-720-2555 or visit
http://www.AOSMInj.com.
Contact
Advanced Orthopedics and Sports Medicine Institute, PC c/o IMMG
Wayne Marnell
732-720-2555
www.AdvancedOrthoSports.com
Wayne@WebIMMG.com

Contact