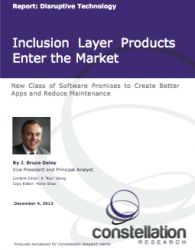 San Francisco, CA, December 06, 2013 --(
PR.com
)-- Constellation Research, Inc. the research and advisory firm focused on helping organizations understand technological disruption today announced the publication of "Inclusion Layer Products Enter the Market" by Constellation Principal Analyst and Vice President, J. Bruce Daley. The report explores a new class of products from Amazon Web Services, Salesforce.com, and aMind Solutions that is creating an 'Inclusion Layer' between traditional software stacks. A complimentary report overview is available on the Constellation website.
This report discusses:
- The potential of mass market mobile devices to lower IT spend and increase user satisfaction
- The maintenance nightmare being created by bring your own device (BYOD) to work policies
- How some companies are taking the lead in addressing the mobile device management problem
- The benefits of the 'Inclusion Layer' approach for end users, developers, IT, consultants and third party software companies
- Benchmarks companies can use to gauge their progress against the market leaders.
Products like Salesforce1, AppStream, and aMind Web and Mobile Frameworks belong to a new layer of infrastructure built in the cloud above standard software stacks - the inclusion layer. The new level is called an inclusion layer because it allows devices and applications to be included together to form compound applications that can be run on mass market devices such as mobile phones or tablets.
"The current approach of bring your own technology to work is creating a maintenance burden only the very largest IT organizations will be able to address," noted J. Bruce Daley, VP and Principal Analyst, Constellation Research. "Fortunately a number of companies have begun working on solving this problem. In the process they are creating an innovative new class of software that will disrupt the market and create new career and business opportunities."
"The market and even most analysts have been confused about where products like Salesforce1 fit into the picture," said R "Ray" Wang. "This report offers a new way of thinking this kind of software and how IT and the industry will benefit from them."
The report, "Inclusion Layer Products Enter the Market: New Class of Software from Amazon Web Services, aMind Solutions, and Salesforce.com Promises to Help Create Better Apps and Reduce Burden of Integration and Device Maintenance" can be found here: https://www.constellationr.com/research/inclusion-layer-products-enter-market
The complimentary report snapshot can be found here: https://www.constellationr.com/content/report-snapshot-inclusion-layer-products-enter-market
About J. Bruce Daley
Daley is a VP and Principal Analyst at Constellation Research whose research focuses on helping organizations realize the full value of their investment in legacy applications, vendors establishing stronger business ecosystems, and individuals find more rewarding careers. His coverage areas include Sales Force Automation, Mobile Sales Solutions, Professional Service Organizations, and add on products He has been for many years the publisher of the Siebel Observer, the largest publication covering the CRM pioneer. Later he co-founded boutique advisory services company, Rabbit Ears Capital Advisors, and conducted over 250 consultations with mutual funds, hedge funds, and private equity funds. Daley also founded the Enterprise Software Summit.
About Constellation Research
Constellation Research is a research and advisory firm focused on disruptive and emerging technologies. This renowned group of experienced analysts, led by R "Ray" Wang, focuses on business-themed research including Digital Marketing Transformation; Future of Work; Next Generation Customer Experience; Data to Decisions; Matrix Commerce; Technology Optimization and Innovation; and Consumerization of IT and the New C-Suite.
Constellation's collection of prestigious analysts bring real world experience, independence, and objectivity to client solutions that span cross-role, cross-functional, and cross-industry points of view. Clients join Constellation Research for a fresh and business focused perspective.
Unlike the legacy analyst firms, Constellation Research is disrupting how research is accessed, what topics are covered, and how clients can partner with a research firm to achieve success. Over 100 clients have joined from an ecosystem of buyers, partners, solution providers, c-suite, board of directors and vendor clients.
Constellation Research, Constellation SuperNova Awards, Constellation Orbit, Connected Enterprise, Constellation Cosmos, and the Constellation Research logo are trademarks of Constellation Research, Org. All other products and services listed herein are trademarks of their respective companies.
https://www.constellationr.com/