The We women foundation Launches Its 2013 Awareness Campaign, Emerging Women of Burma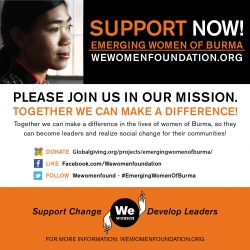 Chiang Mai, Thailand, December 09, 2013 --(
PR.com
)-- The We women foundation, Thailand, launches its 2013 awareness and fundraising campaign profiling the Emerging Women of Burma.
The campaign runs until 17th January 2014 and aims to raise $10,000 to help fund upcoming projects in Burma and enable the foundation to continue supporting the women of Burma.
A documentary is being completed which illustrates how instrumental women are at catalyzing change and growth in Burma and how they can become part of the decision-making process. This inspirational documentary gives a voice to the emerging women leaders of Burma, who share their personal stories of strength, struggle and defying the odds.
The Emerging Women of Burma documentary explores the achievements of seven remarkable women in Burma with distinctly different backgrounds, ethnicity and achievements. Interviews delve into the challenges these women have faced, those who inspired them and what they see for the future of Burma. These great stories are from a Member of Parliament (Shan Nationalities Democratic Party); a community activist and founder of an organization which brings together marginalized teenage girls; and the founder of Aids Myanmar Association and the National Network of Sex Workers.
Be inspired by the documentary and the campaign:
Watch the trailer:
http://vimeo.com/wewomen/emergingwomenofburma
Learn more about the campaign:
http://wewomenfoundation.org/emergingwomenofburma
Support our cause by donating:
http://www.globalgiving.org/projects/emergingwomenofburma
The We women foundation campaign aims to shed light on the work of these extraordinary women who will inspire the new generation of women to lead, build and reform the future of Burma. We also hope to attract more support for We women so it can continue to carry out its work. Increased social media activity, networking, and a matching grant challenge from corporate sponsors will be used to meet the campaign's goal.
About the We women foundation
The We women foundation is a Chiang Mai, Thailand based organization dedicated to empowering women from marginalized communities in Burma by providing professional support and educational opportunities. The foundation builds women's capacity to enable them to make and influence policy decisions within their communities that would otherwise be made by outsiders.
Contact
We women foundation
Cindy Wilkinson
+66 (0) 818747058
http://wewomenfoundation.org/

Contact
Multimedia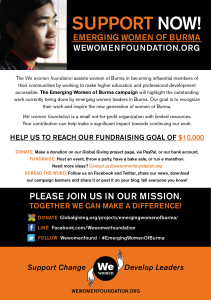 Spread the word! Download the Emerging Women of Burma flyer and share it with your friends, family and colleagues!

Do you have a website or blog? Spread the word! Download the Emerging Women of Burma campaign banner and share it with your visitors!