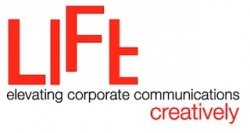 New York, NY, December 10, 2013 --(
PR.com
)-- Lift, a New York-based video production company, has launched with a focus on providing corporate clients with superior digital content for internal and external communications.
"At Lift, we don't believe that the most engaging, thought provoking, entertaining or moving digital content should be reserved for a company's clients or customers," said Jennifer Lea Reed, Lift producer and founder. "Internal communications — whether it's training or compliance, company messages or recruitment — is equally deserving."
Lift clients can be found in finance, real estate, retail, pharmaceuticals and medical, interior design and architecture, energy and manufacturing. Lift provides creative production services for:
* Corporate Communications
* Product Launches/Demonstration
* Commercials for Web, Social Media or Broadcast
* Sales Training
* Branding
* Documentaries
* Executive Profiles
* Recruitment
* Trade Show Videos
With Lift's dedicated focus comes a website designed with the client in mind (www.liftvideoproductions.com). Clients who have experience with video can easily access Lift's gallery of work, bios and contact information, while clients new to working with video can learn about video trends, content options and Lift's process through the various project phases — preproduction, production and postproduction.
"Our goal is to make it easier for our existing clients to see what kinds of videos their industry peers are creating, and for new clients to get a sense of our process before that first phone call, " Reed said. "Everyone wants lots of video content these days, but many people are still unsure of how to proceed, or who to proceed with. We're trying to simplify the process and get our clients what they need and want faster."
Where Lift excels is in client service and project management. The company's objective is to make the workflow of video production, from concept development and scriptwriting to video editing and color correction, transparent to the client. In addition, Lift offers the same full service as a large production house — 3D animation, music composition, media buys and media trafficking — but with a personal touch.
"Our clients know we're very much their partner in what we do for them. We're not just a camera and a sound guy," Reed said. "We want to help our clients grow, so our projects can grow along with them."
Founded initially as 4c2creative in 2011, Lift's award-winning production team includes Christian Montalbano (Director/Editor), Liam Silk (Marketing and New Business Development) and Matt Dimakos (Director of Photography).
For more information about Lift and its services, please contact:
Jennifer Lea Reed
Jennifer@liftvideoproductions.com
(212) 575-3065