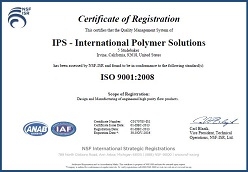 Irvine, CA, December 16, 2013 --(
PR.com
)-- International Polymer Solutions (IPS) has received their ISO-9001:2008 Certification, effective December 1, 2013. The certification was granted by NSF International Strategic Registration. This certification demonstrates IPS' commitment to configuration and quality control in its high-purity fluid handling products and plastic fabrication business. IPS serves the pharmaceutical, bio-medical, semiconductor and chemical handling industries.
Mike Hassel, IPS Operations Manager, pointed out the certification is the result of years of hard work. "With a focus on Lean Manufacturing and ISO Quality Standards, we consistently exceed our global customers' expectations," said Hassel. "Our long established comprehensive quality control process and detailed record keeping helped us build our formal ISO Program."
Mike Siino, IPS President, explained that the decision to become ISO-9001 certified was a proactive endeavor. "It demonstrates our commitment to quality, and is in the best interest of both our clients and our organization," he said.
The ISO-9001 is a set of international standard and guidance documents designed for quality management and quality assurance. International consensus on good management practices, policies and procedures is represented in the standard, with a focus on customers.
IPS produces a variety of high-purity fluid handling products, including solenoid valves (www.ipolymer.com/solenoid-valves.html), air cylinders (www.ipolymer.com/air-cylinders.html), spray guns (www.ipolymer.com/spray-guns-devices.html), fittings, tanks, and enclosures, manufactured from PTFE, PVDF, PVC, PEEK and Polypropylene.
For more information, please contact IPS at info@ipolymer.com, or visit www.ipolymer.com.