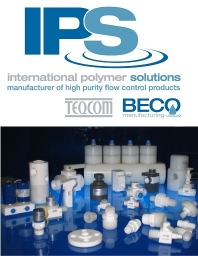 International Polymer Solutions Inc.
We are a manufacturer of high-purity plastic flow control and actuation products for industries and applications requiring engineered performance using PTFE, PFA, PVDF, PVC, Polypropylene, PEEK and others specialty materials. We manufacture a standard line of pneumatic, solenoid and manual valves, air cylinders, hand spray guns, fittings, connectors, tanks and other fluid handling products.
Our high-purity plastic components are ideal for use in semiconductor, bio-medical, pharmaceutical, clean room environments, food and sanitary process lines, high-purity laboratories, and other general chemical handling environment. We also fabricate custom tanks, containment vessels, storage boxes, manifolds, flow benches, clean room cabinets and chemical handling systems to fit your specific needs.
Visit us at our website: www.ipolymer.com