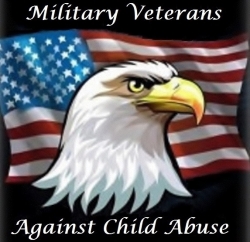 San Antonio, TX, December 20, 2013 --(
PR.com
)-- Military Veterans Against Child Abuse™ (MVACA), (www.mvacaunited.org), is pleased to announce the launch of their innovative program designed specifically for three to five year olds called A-B-C Learn Safety With Me. This program incorporates a Pre-K child's natural affinity for learning their alphabet and numbers with learning about important safety topics in an empowering but non-scary way. The A-B-C Learn Safety With Me program was designed to give parents of Pre-K children peace of mind that their child has a basic understanding of topics such as stranger awareness, no bullying, as well as a number of other important safety issues. This can be especially reassuring to military parents who face deployments and TDY's.
Military Veterans Against Child Abuse™ tailored A-B-C Learn Safety With Me to fill a void in the child safety program arena. Most child safety programs are designed for school aged children ages 6 and up. The A-B-C Learn Safety With Me program was developed by Sharon Blacknall after years of working with older children on other child safety projects and she noticed their younger siblings were left out of the loop. "Statistics show that child predators are targeting younger children because they consider them easier prey. Most of the child safety programs are for older kids and the younger children do not have the knowledge necessary to help keep them safe. Parents are usually reluctant to discuss these safety topics with their Pre-K children because they do not want to scare them. We have found that if you use age appropriate examples and make it fun, this age group thinks of these safety topics in the same way that they look at numbers and alphabet. It is so rewarding to see one of the children after having completed our seminar, try and teach the other kids around them. That is the ultimate success for us when the kids feel empowered enough to teach each other how to stay safe," reported Sharon Blacknall, MVACA Executive Director.
Child Abuse and neglect cases have decreased slightly on a national level for civilians, but according to a special report in the Military Times, child abuse and neglect cases among the different branches of Armed Forces have increased approximately 25-40% within the last five years. The state of Texas leads the nation in the number of child abuse related deaths. 212 children's deaths were attributable to child abuse and neglect and San Antonio (Bexar County) leads the state with 6,205 confirmed child abuse cases. 61% of the confirmed victims were under the age of 6.
About Military Veterans Against Child Abuse™
Military Veterans Against Child Abuse™ is a 501(c)(3) nonprofit organization whose mission is to educate children, parents, child care providers, teachers and the community as a whole about child safety and child abuse prevention through educational material, activities, seminars and advocacy.
Media Contact:
Sharon M. Blacknall
Executive Director
Military Veterans Against Child Abuse™
http://www.mvacaunited.org
(210) 675-8231