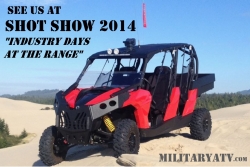 Decatur, IL, December 30, 2013 --(
PR.com
)-- MilitaryAtv.com has entered into an agreement to provide support vehicles for the 2014 SHOT Show® Industry Days at the Range™ to be held in Boulder City, NV just prior to and during the first day of SHOT Show® 2014. Support will include providing support vehicles to setup and tear down the range; as well as transport weapons and ammunition to the firing line during demonstrations.
Vehicles will be utilized during the "Media Day at the Range™" held on the Monday prior to SHOT Show®; as well as the brand new "Buyer Day at the Range™" in which 700 invited distributors, dealers and retailers will be given the opportunity to learn about new products.
In addition to support vehicles, MilitaryAtv.com will have a display tent with the RP Advanced Mobile Systems conversions based on the commercially available Can-Am Commander and all new Commander MAX platforms from BRP. Popular conversions include the RP Strike Package, and newly developed Police Package designed to allow Police additional speed in reaching remote sites such as city parks with limited roads and access, desert or wooded environments with rough terrain, as well as urban areas where the main roads might be blocked or restricted. RP Advance's Run-Flat ATV Tires will also be on display at the event.
Company Personnel and Military Veterans will be on hand to answer questions concerning the vehicle's capabilities and availability to military personnel, municipalities and consumers alike.
MilitaryAtv.com provides development, sustainment and training to military and civilian personnel on ATV, UTV / Side by Sides and Motorcycles. For more information on MilitaryAtv.com visit www.MilitaryAtv.com and use the Contact Us link.
For more information on SHOT Show®. Industry Days at the Range™ visit www.shotshowrangeday.com.