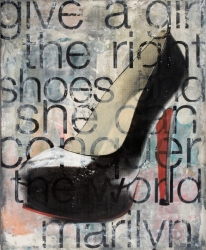 Dallas, TX, December 30, 2013 --(
PR.com
)-- Acclaimed Dallas gallery, Laura Rathe Fine Art, marks their 2014 exhibition debut with an opening reception on Saturday, January 11th, from 6-9pm, featuring contemporary artists, Ray Phillips and Paul Rousso. Inspired by iconic, vintage Pop-culture imagery that is reminiscent of 1940's & 50's classic Americana, as well as perceptions of the ideal "American Dream," the two-person exhibition titled, "The Sweet Life," highlights Phillips's graphic, mixed-media collage paintings and Rousso's large-scale, currency and candy sculptures.
The "The Sweet Life" collection will be on display through February 15, 2014.
About the Artists
Texas Artist, Ray Phillips has always held a passion for creating art. Like many artists, Phillips's artistic journey began as a young child; covering every scrap of paper and blank space available to him with his drawing. Quickly acknowledging his desire to create, Phillips's mother further encouraged him to cultivate his talents by enrolling him in the prestigious Houston Museum of Fine Art School, now named the Glassell School of Art. Through this opportunity of study, Phillips learned the fundamentals of art, an education that would continue throughout his life and lead to a professional career in art, design and music.
Phillips's work has evolved into an amalgam of typography, abstract composition, collage/ mixed media and hidden secrets. Citing Robert Rauschenberg as both an influence and a personal hero, Phillips states, "I have always done mixed media, abstract, and pop art, and I love adding text into my work." As each unique piece is initiated in his mind and translated to canvas, Phillips's work is as much an intellectual pursuit as creative endeavor.
American artist, Paul Rousso, uses heat infusion on plexiglass to create hyper-realistic, hyper-sized, sculptures of crumpled money. The pieces of American dollar bills as well as international currencies reach dimensions of 4 feet by 5 feet, that can be gloriously hanged on the walls. Aside from currencies, Rousso also sculpts other discarded items such as candy wrappers and magazine pages, all in massive sizes. For all of the production and manpower exerted in the crumpled appearance of these objects, Rousso's satire lies in inflating their size to inescapable proportions.
His practical experience in visual art was kick-started with stints as art director and freelance illustrator for Revlon, Clairol, Condé Nast, and Bloomingdale's. He was also commissioned for a special project with the Time Warner Cable Arena in Charlotte, North Carolina and as part of an interior design team for the home of Robert De Niro. His work has been exhibited in galleries and museums in Atlanta, Charlotte, Los Angeles, New Orleans, Houston and Miami.
About Laura Rathe Fine Art
Formally established in 1998, Laura Rathe Fine Art represents a dynamic artist roster including emerging, mid-career, as well as blue-chip contemporary artists. With a primary focus on abstract expressionist painters, LRFA also represents diverse sculptors, mixed media artists, as well as photographers.
Located in the heart of the gallery and design districts of Houston and Dallas, Texas, LRFA hosts artist exhibitions, art walks, as well as provides art consultation services to private and corporate collectors and to the design industry.
For additional information, details or to schedule an interview, please contact:
Janice Meyers, Director Janice@LauraRathe.com &/or 214.761.2000
Courtney Feavel, Assistant Director Courtney@LauraRathe.com &/or 214.761.2000