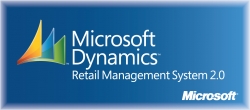 Glastonbury, CT, January 08, 2014 --(
PR.com
)-- Microsoft's Retail Management System (RMS) point of sale software was fully integrated with BlueTarp Financial which offers financial services to the building supply industry. Microsoft RMS is the best known retail and service point of sale system in the world with many more features and benefits than proprietary systems. BlueTarp Financial provides cash flow, increased sales and reduced risk and hassle for thousands of building supply dealers across the United States. "The integration makes the fastest, lowest cost solution for building material dealers to ring out the customer at their point of sale and instantly, electronically place the receivable with BlueTarp Financial," says Dave Durrenberger of
System Solutions
a Microsoft RMS certified partner.
With Microsoft RMS installed on your computer and an Internet connection, your point of sale can instantly pass the customers charge transaction to BlueTarp to handle every aspect of the building material customer(s) trade credit—from credit extension to customer service to customer statements to payments or collections. There is no additional software to install, no hardware to purchase, no complicated manuals to read and no messy computer integration issues so a building material dealer can refocus their internal resources on what's most important: growing the business. Building material dealer customers can be setup with various account options, credit lines and payment terms.
Microsoft is the leader in PC, Server, and Business Software worldwide. Microsoft's RMS POS system is sold worldwide and installed at over 60,000 locations. Single and multi-store building material dealers can purchase Microsoft retail POS technology backed by an ecosystem of Microsoft trained retail professionals in every state. "With proprietary point of sale systems, retailers really have limited or no choices when it comes to available features or support options. These companies just don't have the depth of retail knowledge, money and resources of Microsoft and it's ecosystem of retail partners," says Dave Durrenberger of System Solutions.
For more information on the solution, visit:
Microsoft RMS BlueTarp Financial Integration
or call 888-816-8002.