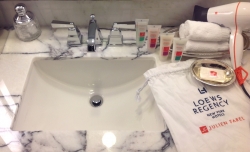 New York, NY, January 16, 2014 --(
PR.com
)-- "Power Hairstylist" Julien Farel is unveiling his first premium in-room amenity line at the Loews Regency Hotel, which reopens its chic art deco doors today, after a year-long $100 million renovation.
A custom assortment of Julien Farel Anti-Aging Haircare and Body Products featuring clinically proven Anti-Aging Bioactives, such as Hyaluronic Acid, work to intensely hydrate and protect the skin, scalp and hair. "We understand that when women travel, whether it is for business or pleasure, hair and makeup are critical," says CEO Suelyn Farel. "Women are especially sensitive to the lack of moisture during travel and with our incredibly hydrating products, we know that high quality hotel amenities will make a deep impression on the overall travel experience."
The specially curated amenity line includes the best-selling Julien Farel Anti-Aging Vitamin Shampoo and Condition, which was formulated for colored or chemically-treated hair, and an energizing Anti-Aging Hand & Body Wash and Body Crème. All products are Made in Italy, paraben-free and have not been tested on animals.
Julien Farel high-powered hairdryers complete the sophisticated in-room Manhattan hotel setting and are rolling out to all 19 Loews Hotels & Resorts properties nationwide. As opposed to low efficiency hairdryers prevalent at most hotels, Julien Farel's hairdryers are professionally designed with multiple speed and heat settings, and a concentrator nozzle to give guests that same precise blowout they would get in their salon or at home, saving them time and luggage space. "Life is unpredictable, but your hair doesn't have to be!" explains Julien. "We are committed to offering the very best in professional-level tools and luxury haircare, so guests can take the added worry out of their demanding travels."
Later this spring, Julien Farel Restore Salon & Spa, an unparalleled 10,000 square-foot state-of-the-art beauty destination and fitness center, will launch adjacent to the Power Breakfast as a final component to the hotel's luxury transformation, catering to the ultimate New Yorker and international travel set alike.
About The Julien Farel Group
Julien Farel is one of the most celebrated names in the luxury haircare arena. He is the Chairman of the New York City born, French-American Julien Farel Group, which is driving innovation in the beauty industry not only through its transformative Anti-Aging products, but also through its unique services. With salons in New York, Miami and Cabo San Lucas, The Julien Farel Group also includes JF Gymnastique, a private studio offering a holistic fitness and wellness experience. Farel is also Founder of Julien Farel Anti-Aging Haircare, the groundbreaking product line launched in 2011 that gave rise to the Anti-Aging haircare revolution. His impressive roster of clients includes beauty editors, CEOs, and such A-list celebrities as Lauren Bush Lauren, Ivanka Trump, Salma Hayek, Gwyneth Paltrow, and Richard Gere. Farel has also been the Official hairstylist of the US Open Tennis Tournament since 2007, giving world-class tennis players, like long-time client Rafael Nadal, an aesthetic – and psychological – edge. He is one of the most prominent hairstylists in the world and has built a premiere luxury lifestyle beauty brand in a very short period of time, which can be attributed to his focus on client satisfaction, a rarely seen work ethic and a fierce drive to succeed. The new Salon & Spa flagship at the Loews Regency is setting a new bar in the approach to Anti-Aging and revolutionizing the entire beauty industry. For more information, visit
www.julienfarel.com
.
About Loews Hotels & Resorts
Headquartered in New York City, Loews Hotels & Resorts owns and/or operates 19 hotels and resorts in the U.S. and Canada including the newly acquired Loews Madison Hotel located in the heart of Washington at the epicenter of legendary D.C. landmarks and the Loews Boston Hotel, one of Boston's preeminent historic buildings, situated on the corner of Berkeley and Stuart Streets. Located in major city centers and resort destinations in North America from coast to coast, the Loews portfolio features one-of-a-kind properties that go beyond Four Diamond standards to delight guests with a supremely comfortable, uniquely local and vibrant travel experience. For reservations or more information about Loews Hotels & Resorts, call 1-800-23-LOEWS or visit:
www.loewshotels.com
.