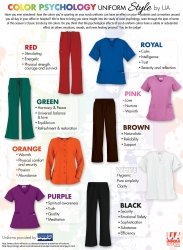 Plantation, FL, January 28, 2014 --(
PR.com
)-- Vision is one of the more popularly used out of all 5 senses. When people see each other, they see color first in their skin tone and physical features and what they are wearing. Colors can be bold and cold, festive and flamboyant or harmonious and neutral. In the world of nursing, where most hospitals do not have a uniform scrub code, they are an expression of nurses' personalities and emotions which guide them to wear their choice of
medical scrubs
on any particular day.
The right use of colors help nurses look their best and project an attractive and confident image. For example, red is a warm color and energizes those around them and if they have a go-getter, independent type of personality, they may be more inclined to wear this and other similar attention grabbing colors like yellows and oranges. On the other hand, if they wake up for work still feeling tired or not in the best of moods, they should outfit themselves in these colors to revive and rejuvenate them. Cool colors are greens, blues, pinks and purples. They have a calming and soothing effect and draw attention away from themselves. If they are laid back or have a calm personality, they may be more inclined to wear these tones. Blue signifies trust and reflection and green exudes harmony and peace and refreshment and restoration. They will look great and feel their best at work. Uniform Advantage provides a wide variety of solid color scrubs and prints in a wide array of colors and styles for both female and male nurses. They will experience comfort, fresh new looks and a customer service rep to answer any and all questions.
Become a silent observer this week to see how people react to color and see how it influences them.
Uniform Advantage is a leading retailer of scrubs and medical uniforms. Founded in 1985, the company operates out of Plantation, Florida and ships from their distribution center near Atlanta, Georgia. It has grown to include 29 scrubs stores located in key cities across the US and Canada, a catalog division and an entity dedicated to the online market. For more information, visit
http://www.UniformAdvantage.com
or call 800-283-8708.